Hidden out of sight on a working winery, where the rows of vines taper off and a towering pine forest begins, sits a handcrafted tiny home that goes by the name of Dinny. Small but full of charm, her cosy yet pulled-together demeanour will enthral anyone who travels to this unique Slow Stay, a short 20-minute drive out of Canberra.
Dinny is part of Cubby and Co—a collection of vineyard accommodation, ranging from bell tents to off-grid tiny homes. The brainchild of couple and business partners Erin Wilson and Daniel Discipio, Cubby and Co launched in 2018 on the sloping land of Mount Majura Vineyard in Canberra's wine region, with just a single bell tent named Edgar.
Perched atop a hill overlooking the estate, Edgar featured a queen bed, couch and other creature comforts needed for a relaxing escape and was the gateway to pitching another tent a year later, called Frank after one of the vineyard's owners and humble winemakers.
"We liked the idea of small spaces for a couple of reasons," Erin says.
"Firstly, because they are on a vineyard that is not our land, we were really conscious that we were in someone else's space. We always wanted to have something small so as not to take up too much real estate, but also to not intrude on the property."
"…you don't need too many things to relax and switch off and have a good time."
"And then we also just liked the idea of small spaces, because with 'small' generally comes a stripped-back approach. So, we could showcase that you don't need too many things to relax and switch off and have a good time."
In the early days, the tents would be booked consistently on weekends with city-goers gobbling up the newfound opportunity to stay on a vineyard, eliminating the need for a designated driver after a day spent enjoying tastings at the cellar door.
But from there, Erin says it quickly exploded to "seven days a week for both tents, all the time".
The reality of balancing corporate day jobs and a flourishing side hustle began to wear thin, so the pair took the plunge and quit their positions to focus solely on growing Cubby and Co, which led to the newest addition and first tiny home, Dinny.
Whilst the tents were a successful entryway into the vineyard accommodation market, allowing the couple to test their idea, they did have a couple of shortcomings, including their usability in all weather and the need to close them in winter.
"Canberra can have some really wild weather; it gets really hot in summer and can get really cold in winter, so the tents can be difficult, even if it's just raining," Erin says. "We loved the idea of a tiny home because it provided accommodation that you could use all year round."
So, in 2020 Erin and Daniel set out to create a tiny home that would be small, inviting and a beautiful haven for two, no matter what the weather was doing outside.
Instead of purchasing an off-the-plan cabin, they chose to design a house that would melt into the landscape whilst referencing a past owner of the vineyard. But first, they needed to find the perfect location—one where they weren't in the way of passing tractors and other vineyard machinery, but still were part of the surroundings.
"We spent a while walking around the vineyard, seeing where one might go but a lot of it does depend on the vineyard and their management," Erin says, explaining that disturbing the soil or introducing things like new plants to the environment, can have an unwanted effect on the vines, and in turn the wine they produce.
"It's a pretty intricate process, but it's also what makes it really fun and different," she says.
After selecting a little nook at the southern end of the property, the creative process began with Erin designing the tiny home herself, with the programs she knew from her project management background.
"I actually drew the layout of the cabin in Word," she laughs. "I didn't have any knowledge of sketching programs or anything like that, so I drew it in Word to scale, with a corresponding Excel document containing all the measurements of the walls and windows."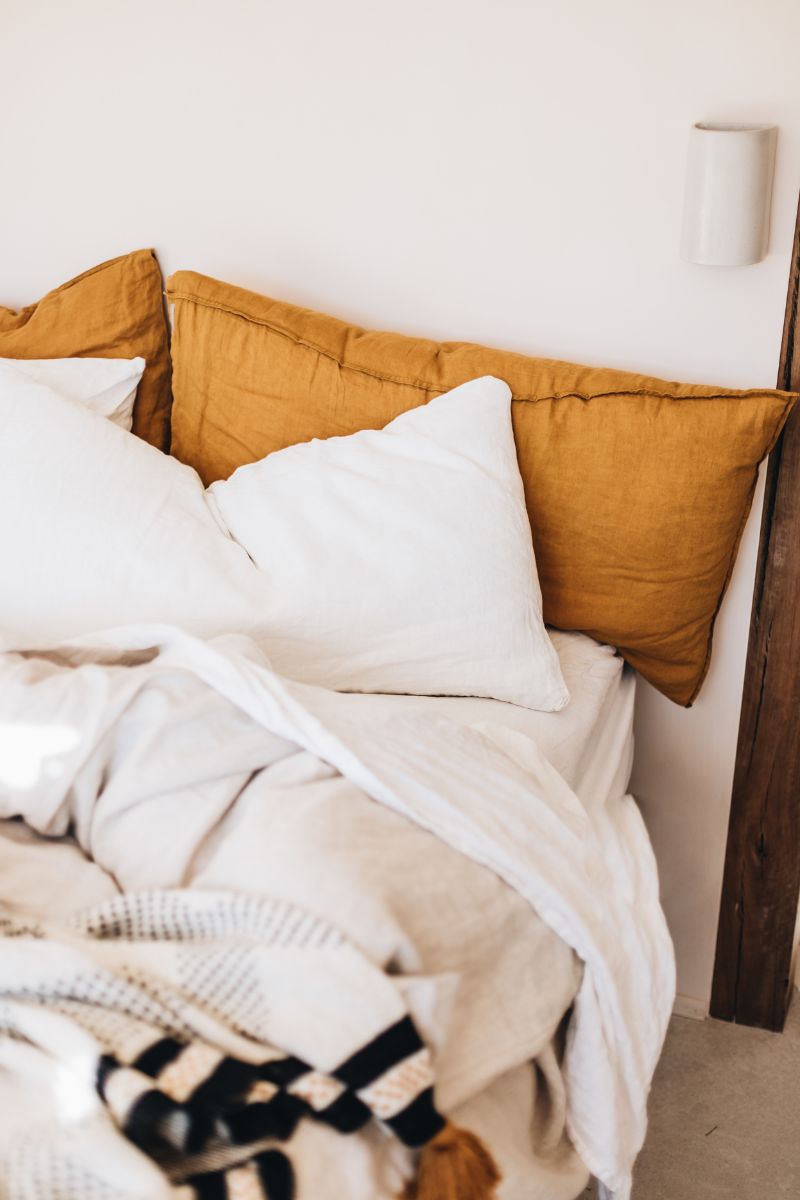 From there, the couples' dads got heavily involved with the build of Dinny, so much so, that it became affectionately known as "The Pappy Project"—pappy being an Italian word for "dad".
After nearly 18-months of finessing designs and building, Dinny opened her heavy blackbutt timber door for the first time midway through 2021.
Referencing the first owner of the vineyard, Dinny Killen, and her shed, which was divided into three spaces, this tiny home is also separated into three distinct areas—the hallway, kitchen/bathroom and the bedroom.
Park the car at the cellar door and climb the stairs into the vineyard, passing Dinny's original shed and following the vines until you turn a corner. It's now that you'll first lay eyes on the tiny home's exterior, a mix of silvering Australian hardwood and steel cladding.
Step onto the deck and through the front door, and guests will land in a tiled hallway, created to emulate a mudroom so commonly seen in old farm cottages. The hallway leads to the kitchen at the back of the home; the ideal spot to take off your jacket and boil the kettle. Open shelves are decorated with a rotating collection of locally-made mugs, bowls and vases from regional ceramicists, and off to the side is a sliding door, that leads to an ensuite where micro cement walls and a skylight above the shower steal the show.
From the other end of the hallway, an oversized picture-window overlooks the Riesling vines, beckoning guests to come and take a look. It's here you'll find a cosy bedroom, with a small desk and stunning timber stools made by Tinkermade Wood in nearby Braddon.
Embrace The Slow
There's no wrong way to spend your days at Dinny, but if you need a little help filling the time you have from switching off, there's a stash of Galah Press magazines and boardgames to keep your fingers busy.
Sample the Local Drops
Stroll up to Mount Madjura Vineyard's cellar door and sit a while, enjoying a tasting session and getting clued up on local hidden gems you need to visit. Don't forget to leave with a bottle to enjoy on the deck, by the firepit or in bed, as the sky turns black.
Explore Further Afield
It's not difficult to see why guests fall in love with Dinny, and with Cubby and Co's expansion plans underway—Erin and Daniel are currently building tiny homes at the beautiful Yarrh Wines in the Murrumbateman region—there will be even more unique Slow Stays dotted across vineyards very soon. So, sit tight!
Photography Abbie Melle, Bianca Gabalfin, Hayley Andersen, Jess Discipio & Simon Thorpe