A heady tingle of adventure calls from a not too distant horizon. A small duffle is stowed in the backseat. The all-consuming monotony of everyday routines is relegated to the rearview. The freedom of savouring every moment stretches out in front…
No matter which direction you choose – south east to Liptrap Loft or south west to Otways Loft and Steam Carriage, the effect is the same: complete and utter escape.
Part of Dufflebird Getaways portfolio of properties, this trio of Slow Stays is the embodiment of close-to-home adventure. Sitting at around two hours from the swirl of Melbourne's always-on energy, the 'near but far' effect is very much by design for owners Fleur and Mike Leslie.
"We want people to be able to throw a few things in their duffle bag, drive for less than a couple of hours and be immersed in a different and intriguing environment," Fleur says.
The avid travellers, who purchased the intangibly captivating Liptrap loft in South Gippsland almost two decades ago, were inspired by their own inquisitiveness and the "feeling of heightened senses while exploring new places".
"[It's] that feeling where you forget about time and are delighted again and again at things you find," Fleur explains.
"[It's] that feeling where you forget about time and are delighted again and again at things you find,"
Liptrap Loft, handbuilt by architect and craftsman Jim Commadeur, is a glittering example of this. A place where the magic feels inexplicable, transcending its unique details.
A sawtooth roofline atop an aged-wood clad building both contrasts and complements the enveloping landscape. Soaking in the blue tiled bath in the dedicated Japanese bathhouse, opaque sliding panels glow golden in the sunset. Taking in five-acres of uninterrupted rural landscape reveals the enchantment, rendered visible by a palette of playful wildlife and peace.
"All the little details, the seclusion of not seeing another house, being immersed in nature on all sides contributes to something intangible. It shouldn't work, but somehow it does," explains Fleur.
Inside "there are exquisite details everywhere," says Mike. Romantic charm bounces between exposed beams to recycled materials like ply walls and tin sheeting. This rustic, relaxed mood, though, obscures the precise and meticulous craftsmanship the quirky cabin was originally built with.
"It could only be built by someone who likes to experiment with ideas and materials and was in no hurry," Fleur says.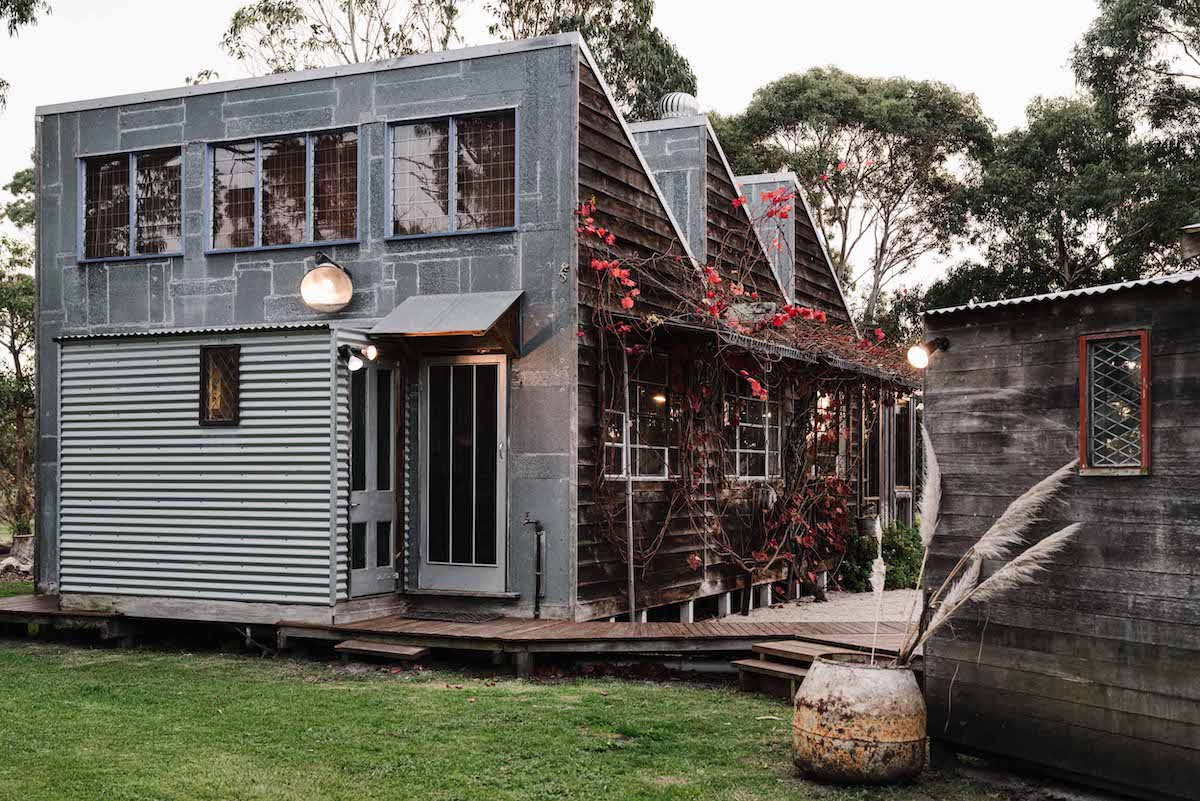 Equally, the styling touches, like a wrought-iron king bed, antique decor and considered inclusions reveal the duo's preference for nostalgia, a subtle but character-filled design signature that's become synonymous with any Dufflebird Getaways escape. Just one of the many reasons the locations are in high-demand.
"We like to reuse old materials for environmental reasons, but it's also an aesthetic," explains Fleur. "There's something endearing in seeing and touching wood with a patina of several layers, the knots and crags of an aged beam, a dusting of rust on an old tin roof, some driftwood that has survived the ordeal of being lost at sea. The stories these materials could tell," she adds.
And while Liptrap came before Dufflebird's now clear niche of unique, handbuilt stays ensconced in nature, Otways and Steam Carriage intentionally continue this tradition of wooing guests with quirk and charm.
"The backstory on Otways Loft [and Steam Carriage] is similar to Liptrap: an owner-builder painstakingly building an unconventional passion project," says Fleur, nodding to the unusual nature of the adjacent properties. "[But] buying Liptrap Loft was a whim. Buying Otways Loft was deliberate."
It's perched at the edge of the mammoth wilderness of Otways National Park and the Great Ocean Road. Here the restored treehouse-style shack beckons quietly from behind dense foliage and rambling blackberry bushes. Drawn in by the obvious charisma, Mike and Fleur took the three-bedroom lofted cabin from rundown to rustic romance before welcoming their first guests in 2014.
Now, a stay here offers the same feeling that comes from one of Otway's best pastimes – settling into a cosy chair with a hot drink in front of the fireplace. A glow of familiarity unfurls as you move through the wood-accentuated rooms, stepping back to a time when simplicity ruled and technology was absent (you won't find a TV, but there is WiFi). Features like the master's clawfoot bath, vintage furniture and a piano add to the bygone-era impression.
While Otways Loft was the main attraction, the bones of an historic steam carriage in the backyard began to pique the interest of train-buffs. Fleur and Mike started to view the eyesore as more bonus than burden. And despite five builders refusing to touch the project, they persisted. Letting the carriage lead the way, Fleur and Mike leaned on their usual subtlety, using salvaged materials to polish and restore the carriage into a surprisingly spacious getaway with a steampunk aesthetic. This look has since given way to a strong roaring '20s vibe, a callback to the 1926 carriage's storied past.
It's further proof that Mike and Fleur's approach pays respect to the unfolding narrative of each place's story. "We don't see our properties as being finished. They are constantly evolving and improving," Fleur explains.
Almost equidistant from Melbourne, hugging the triangular peninsulas that sandwich the Bass Strait, each property's appeal is further burnished by the beauty that surrounds it. Both the Otways and South Gippsland remain "lush and green while the rest of Victoria browns off" with national parks, rolling hills and wildlife in great abundance.
Forrest, a mountain biking mecca and historic timber town is a revelation, blending underrated charm with the trappings of a larger destination. "You feel like you're in a small undiscovered town yet there's good food and beer," says Fleur. "You can walk into the town very easily to get a morning coffee from the General Store, and then later to have a beer at the brewery."
Liptrap Loft's location is equally surprising, considering the rural setting. "The Otways' Great Ocean Road beaches are no secret, but South Gippsland has some stunning little-known beaches. If you're prepared to walk you can often find a beach to yourself," shares Fleur. Wilsons Promontory – which Fleur says "could be the most beautiful place in Australia" – and Cape Liptrap Lighthouse are within cooee, if you can muster the inclination to leaving the Liptrap bubble.
Checking into any Dufflebird stay is like a "holiday from normalcy" as one guest described Liptrap Loft, which is a badge of honour for Mike and Fleur. The secret? To make sure the experience is untethered from the burden of everyday details. "That means good communication, consistency, generous provisions like firewood, kindling, kitchen basics, herbs for cooking, handsoap, shampoo, conditioner, and we try to place everything where guests would expect to reach for them," she says.
While the couple admit their properties don't cater to everyone – "[our guests] tend to be curious, adventurous and love nature", Fleur explains, saying those who love it keep coming back for the same reasons her and Mike fell in love with travel.
"When I go on holiday, I want a break from my everyday life, where I can slow down, get calm and begin to feel myself rise to the surface," Fleur says. "Once I'm centred, I want to reflect on my life and think about what sort of life I want and what I can do to move in that direction."