Perched behind a soft screening of flowering natives, along a quiet street in a secluded beach town on the South Coast of NSW, it would be easy to drive straight past this Slow Stay. Yet, this hidden gem is more than just a stay; it's a serene beach shack waiting to be discovered.
But that's part of the allure when you come to stay at Oyster Catcher Huskisson, just two and a half hours from Sydney — this quaint shack is designed to sit softly within the environment it occupies. You won't find any showiness or shiny accents here, just the authentic charm of a traditional beach shack.
Wedged between thriving bushland and stunning, white sandy beaches, time stretches differently in this neck of the woods. The gentle aura of the shack life resonates through Huskisson and the greater Jervis Bay area, making them long-standing favorite holiday destinations for Sydneysiders looking to trade the weekday city grind for a slow getaway, closer to nature.
Two of those such people are Phil and Abby Cowlishaw. Living in Sydney's vibrant Inner West, it was the soothing silence, natural beauty and authenticity of Huskisson that found its way into the couple's hearts during their first family getaway with five-month-old daughter, Sadie.
And whilst the pair needed to remain in Sydney for work purposes, it was the combination of post-holiday feels and the chaos of covid that ignited the conversation around finding a place by the sea to call their own.
After scrolling listings, the couple came across a house close to the beach that ticked all their boxes. Already named Oyster Catcher, this holiday home was designed in 2006 by a local architect and was the perfect retreat to escape to on the weekends, make new memories with friends and family, and eventually, share with others beyond their inner circle. Because if they needed somewhere to re-set, perhaps other people did too.
Over the next few months, the pair reinvigorated the home with love and much-needed care. Whilst the not-so-fun work, like roof, plumbing and electrical repairs, were more hands-off, when it came to designing the interior, Phil and Abby dove right in.
Having worked overseas for many years and travelling extensively during that time, the couple pulled inspiration for the design of their coastal sanctuary from boutique hotels and Airbnbs they had visited, most recently in the United States.
Sparrows Lodge in Palm Springs, Surfrider Malibu in Malibu and Timber Cove in Jenner were just some of the favourites the couple turned to, noting they were impressive but not pretentious, calming and in-tune with their surroundings.
"We wanted to create the kind of space that was homely and friendly and relaxed, but we were also very much focussed on it being an escape destination—so it's not just your home, replicated," Phil says.
With that in mind, along with a strong desire to keep it authentic to the young family and not design for Instagram cred, Abby and Phil turned their mood boards into a reality.
Check-in to Oyster Catcher Huskisson today and you'll meander through a lush garden, past a perfect patch of grass for afternoon lawn games, before reaching the expansive north-facing, sun-drenched deck. It's here, you're likely to spend bulk holiday hours, either reading, chatting, drinking or devouring another barbecue spread.
Inside, generous bifold doors and walls of louvers invite nature and sea breezes in, along with connecting the open-plan living area with the deck, encouraging seamless holiday living.
"You can have space and be near each other, but not on top of each other," Phil says about the property's welcoming layout.
You'll find enough room for eight guests with three bedrooms, two beautifully renovated bathrooms and a fully-equipped kitchen, complete with a gas strut servery window to complement those outdoor gatherings.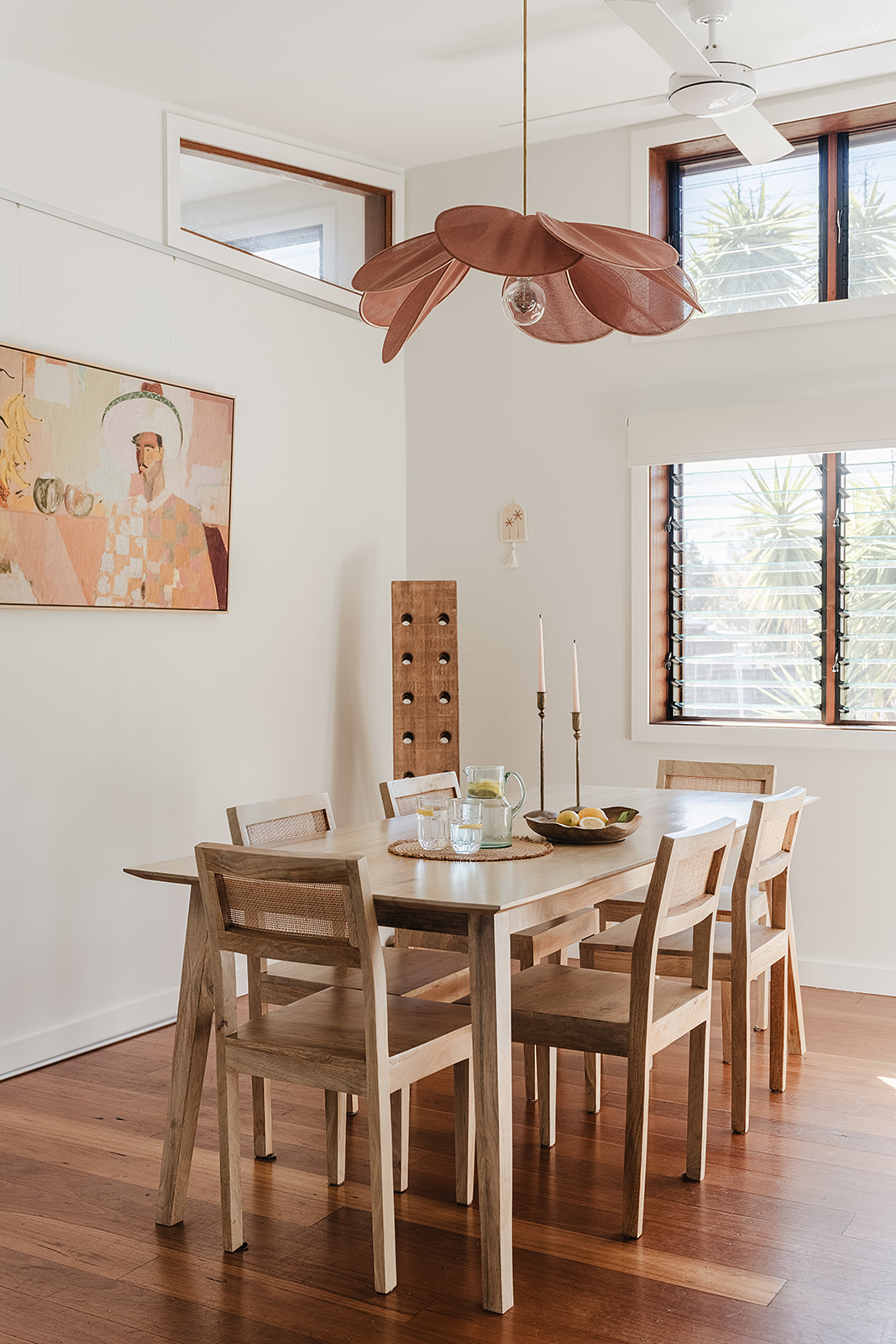 Each space has been consciously filled with furnishings from Australian-based companies, while the more bespoke pieces were hand-picked from local boutique, Few and Far. Big blank walls provide the perfect resting place for a flurry of Australian artwork (think: Jai Vasicek and Georgie Wilson) selected by Abby, some so loved they were purchased prior to the pair having anywhere to put them.
"The first piece we bought was before owning Oyster Catcher Huskisson and was "Surf Check" by Gabrielle Diamantis," Abby says. "While we didn't have a house to put it in, we knew it was authentic and would become a cornerstone in our future house
But there's more to this home than the visual interiors feast; Oyster Catcher is packed with sustainability features. With a presence that is gentle on the land, this Slow Stay utilises reverse brick veneer to help minimise energy consumption and has an incredible thermal chimney that doubles as an entryway, perfect for cooling the air on hot summer days. There's also rainwater to use on the rambling gardens, solar panels to power the home, compostable coffee pods and stretch wrap in the kitchen. Plus, guests will find a reusable tote bag in their welcome kit, perfect for daily adventures.
Speaking of adventures, the location of this unhurried abode is guaranteed to lure guests outside to explore without hopping in any car.
"Everything is a stroll away," Phil says. And he's not wrong.
Step out the front door and turn left to forest bathe in the state park or right for a short walk to the quiet, kid-friendly Huskisson Beach. From there, venture a little further around to Moona Moona Creek for a waterfront picnic or a bridge jump if the tide is right.
While Oyster Catcher really does have everything you need to whip up delicious meals, the quaint township of Huskisson is only a 10-minute walk and offers a smorgasbord of options. Gorge on buckwheat waffles and housemade avocado flatbread at 5 Little Pigs, sip on a glass of chilled wine overlooking the bay at Huskisson Hotel or try a local brew at Jervis Bay Brewing Co.
When home time beckons, the backyard fire pit and comfy King-size beds await, prepping you for a restful night before another day of slow living. A weekend spent here, and the stress of a busy life will be a distant, murky memory.
"Oyster Catcher Huskisson enabled us to create the antidote to the city life we live every day," Abby says.
The best bit? It's a tonic they're more than happy to share.
Check In to Check Out
Explore Postcard-Worthy Beaches
Surrounded by Jervis Bay National Park, Blenheim Beach and further south, Murrays Beach truly are patches of paradise. Blinding white sand, crystal-clear water and a sense of isolation will make it feel like you've stumbled on a hidden gem.
Get Wet
With so much water surrounding Oyster Catcher Huskisson, it's almost a given that getting wet is a must-do. Satisfy your inner child and jump off the bridge at Moona Moona Creek, or, if you'd rather take things slow, hop in a kayak or aboard a SUP and explore the bay.
Sample The Local Fare
Best things to eat or drink: We're spoilt for choice when it comes to wining and dining. But do not leave without chugging a locally-brewed beer at Flamin' Galah or Jervis Bay Brewery and knocking back mussels fresh from the bay. Delicious
Photography By Hannah Puechmarin