Northern Tasmania is a region that deserves to be taken slowly – savoured, if you will. And what better way to do that than on a road trip that takes in the very best of the region's hidden gems?
From the charming country towns that seemed to be frozen in time, to the rugged coastlines and rolling hills that stretched out before us, every moment of our recent journey was infused with a sense of wonder and discovery.
What truly distinguished Northern Tasmania, however, was the ease with which we connected with the people and places in each location we visited. From the warm embrace of Slow Stay owners who welcomed us like family, to one local cafe where, after a friendly chat, the owners gave us a personal tour of their veggie garden.
For us, this embodies the essence of travel – taking the time to genuinely immerse ourselves in a destination, unveiling its concealed treasures, and creating memories that will remain with us long after we have departed.
First stop: Launceston 
Launceston, the second largest city in Tasmania, is where we flew into for our trip and from where we picked up our rental car. It's a city that's infused with a vibrant energy and a deep passion for Tasmanian produce. The farm-to-plate food scene is alive and well here – UNESCO deemed it a City of Gastronomy, after all – with a plethora of cafes and restaurants that serve up delicious dishes crafted from the freshest ingredients. One of our favourite places to dine was Black Cow Bistro, where we enjoyed one of the best meals we've ever had, featuring locally sourced, grass-fed beef cooked to perfection. Another standout spot was the Mad Apple Cafe, which wowed us with its creative vegetarian dishes and decadent cakes. And for coffee, we loved Sweet Brew, with its minimalist decor and expertly crafted brews. In Launceston, every meal was a celebration of the region's rich culinary heritage, and so we began our trip feeling inspired by the passion and creativity of the local food scene.
Slow Stay: Flax at Duck Reach
Nestled in the heart of the Cataract Gorge Reserve, Flax at Duck Reach is a charming heritage cottage that's steeped in history and from the moment we stepped inside, we knew we were in for a treat.
Flax is a true work of art, with sumptuous interiors that blend original pieces from the building's era with modern design elements. It's clear that every detail has been thoughtfully curated to create a sense of comfort, luxury, and tranquility.
One of my favourite features was the incredible high ceilings and windows draped with beautiful flax linen curtains that filtered the light through perfectly (every photographer's dream). There is also a mix of vintage and contemporary books, games and food supplies in the kitchen. The blend of old and new is seamless and elegant, with original pieces from the building's era perfectly complementing modern touches.
But what truly sets Flax at Duck Reach apart is its location. With the Duck Reach Trail right at our doorstep, we were able to immerse ourselves in the beauty of Tasmania's wilderness and reconnect with nature. The views of Cataract Gorge, South Esk River, and the Tassie bush were simply breathtaking, and we spent hours exploring the area and taking in the sights and sounds.
But perhaps the most memorable part of our stay was the sense of seclusion and serenity that we experienced at Flax at Duck Reach. With the winding Corin Street leading to the cottage and the bonafide ruin next door adding to the sense of history and intrigue, we truly felt like we were in our own little world. It was the perfect place to disconnect from the outside world and just be present in the moment.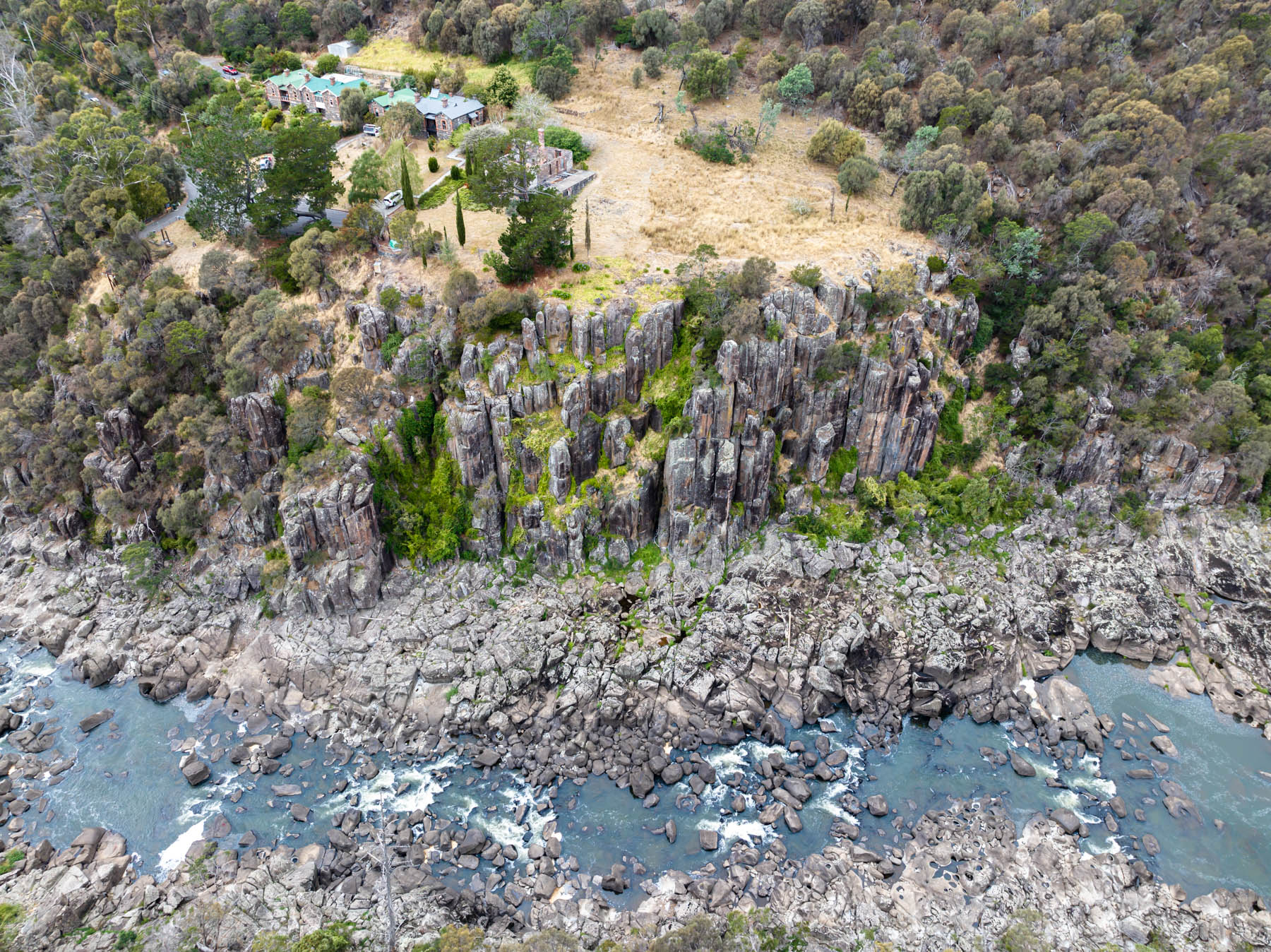 The Meander Valley region
Nestled in the heart of Northern Tasmania, the Meander Valley region is a natural playground brimming with rugged mountains, verdant valleys, and cute little towns. Located just a short 50-minute drive from both Launceston and Devonport, the quaint town of Meander is a gateway to some of the region's most breathtaking natural wonders. From the towering Quamby Bluff and Mother Cummings Peak to the majestic Greater Western Tiers that stretch out into the distance, this is a land just waiting to be explored.
Slow Stay: Cedar Cottage Meander
Cedar Cottage Meander oozes tranquility and warmth. Surrounded by breathtaking vistas, this Slow Stay's rustic charm and inviting interiors make it the ideal sanctuary for unwinding and disconnecting.
Every facet, from the cedar wood hot tub and sumptuous linens to the well-appointed kitchen and captivating countryside panoramas, has been meticulously planned to ensure the ultimate respite. Whether you're nestling in with a good read or luxuriating in the ozone-treated hot tub waters, you'll find yourself rejuvenated, invigorated, and primed for the Northern Tasmanian adventures that lie ahead.
During our visit, we loved spending time with owner Sarah and her mother, who graciously guided us through the property's 'vegmahal' organic garden while sharing their extensive knowledge of the region's flora and fauna. It was a poignant reminder that slow travel transcends leisurely experiences—it's also about fostering connections with the people and environment that envelop us.
It wasn't just the Slow Stay that stole our hearts in this region – we also had the pleasure of exploring the town of Deloraine. We stopped in at the local cafe, Frank and Lotti, where we were welcomed with open arms by the friendly owners who showed us around the micro-farm at the back of the shop. It was inspiring to see their commitment to sustainable, locally sourced ingredients and their passion for supporting the community.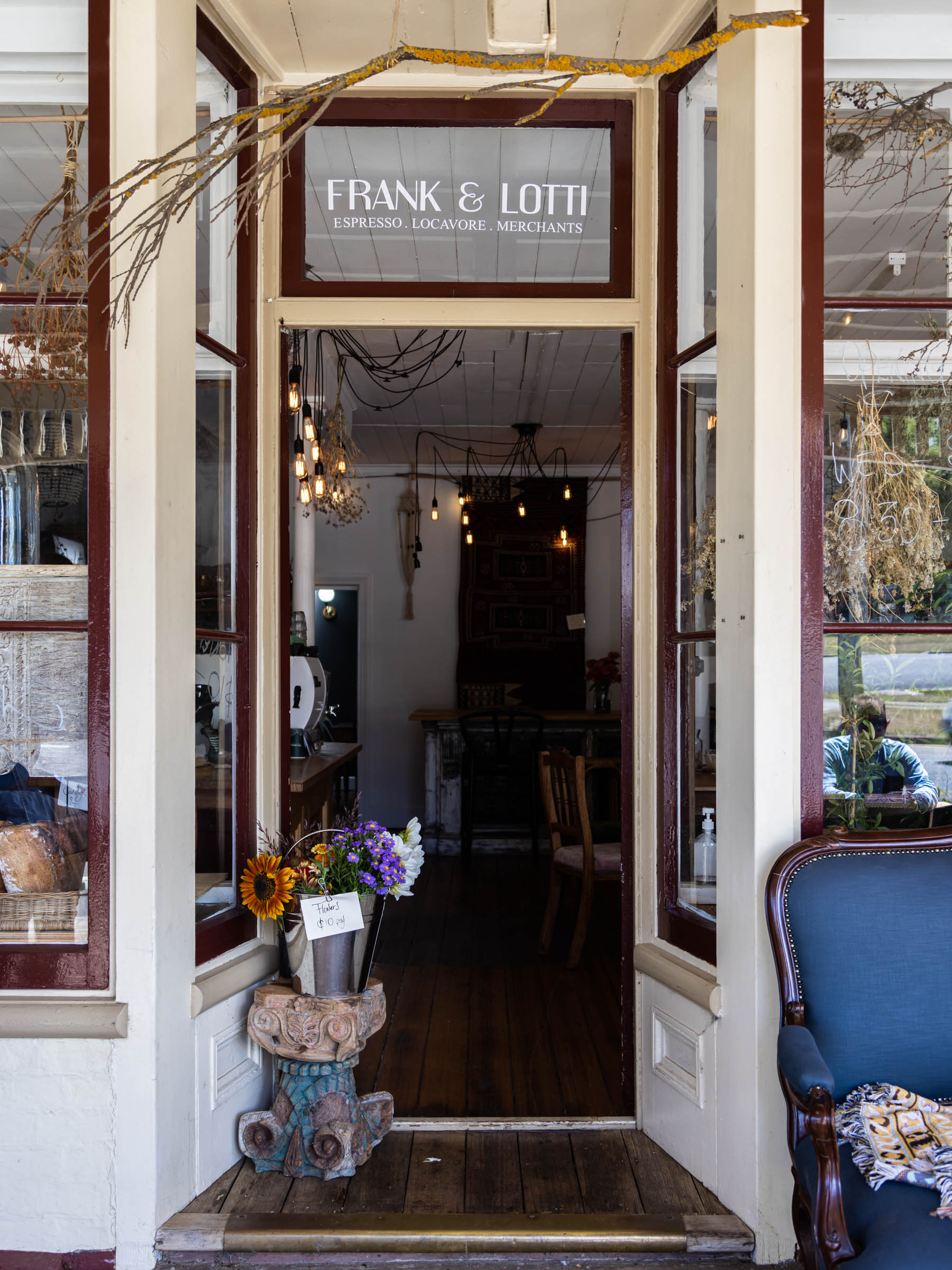 Devonport
Devonport is best known as the primary arrival point into Tasmania for the ferry from Victoria. It offers a mix of natural beauty, rich maritime history, modern amenities and is a great starting point for exploring Tasmania's scenic wonders if you are driving across from mainland Australia in your own car. 

Slow Stay: The Cove
At first glance, The Cove may appear to be a simple farm property, but as you ascend the hill, you'll be struck by the unique blend of natural beauty and luxurious design that makes this property so special. Located on a section of a family-owned working farm and run by owner Kim Robinson and her son Kurt, The Cove is an award-winning adults-only boutique accommodation that celebrates the natural beauty of its surroundings and the rich history of the Lillico family farm. From the breathtaking views of the ocean to the stunning architecture and decor, every aspect of The Cove has been carefully curated to create an unforgettable experience for guests.
The 13 rooms at The Cove are each uniquely designed to reflect the natural Tasmanian landscape. From the premium Villa Two Five Six to the hard-top glamping tents and A-Frame offerings, there's a room to suit every guest and budget. We stayed in the Hillside chalet, which offered uninterrupted views of the ocean and complete privacy.
The Alexander Centre is a true centrepiece of The Cove, showcasing Tasmanian timbers and artworks in a communal kitchen and lounge area. The bathroom facilities are first-rate, featuring modern amenities and luxurious touches that will leave you feeling pampered and indulged. The staff offer warm and welcoming country hospitality that will make you feel like family.
What I truly adore about The Cove is its easygoing and congenial ambiance. The honesty bar, where guests can help themselves to a glass of wine and simply jot down their room details on a notepad, amplifies the relaxed atmosphere. We loved the oversized beanbags and plush throw blankets strewn across the front deck which are perfect for cozying up and marveling at the ocean's expanse.
Experiencing the farm and penguin tours at The Cove was unforgettable. Meeting Highland cows, goats, lamas and sheep, then watching little penguins return to their nesting grounds at dusk – it was a truly intimate connection with nature.
Riana
Tucked away in Tasmania's stunning North West region lies Riana, a quaint town boasting a vibrant community spirit and irresistible charm. Encircled by verdant hills, lush woodlands, and thriving farmlands, Riana is also home to the breathtaking Gleneagle Tasmania.
Slow Stay: Gleaneagle Tasmania
Gleneagle Tasmania is more than just a place to stay – it's a unique experience that will leave you feeling rejuvenated and connected to nature. Two geodesic domes are nestled amongst the forest, giving you the feeling of being perched up in the treetops. Designed to blend seamlessly with the surrounding environment, the domes offer panoramic views of the natural beauty that surrounds them.
But Gleneagle is more than just a beautiful retreat – this Slow Stay is also committed to sustainable practices and environmental conservation. Owners Kevin and Isabelle have taken great care to revegetate the property, and almost everything in the domes is locally made in Tasmania. By supporting the local community, Gleneagle Tasmania is making a positive impact on the environment and the people who live here.
This Swiss-Australian couple have poured their hearts into creating an experience that's truly unforgettable. We were privileged to experience a Raclette-style dinner that harks back to Isabelle's Swiss heritage, and spent our nights listening to the carefully curated vinyl record collection that Kevin has amassed over the years. Every detail of Gleaneagle Tasmania is infused with heart and soul.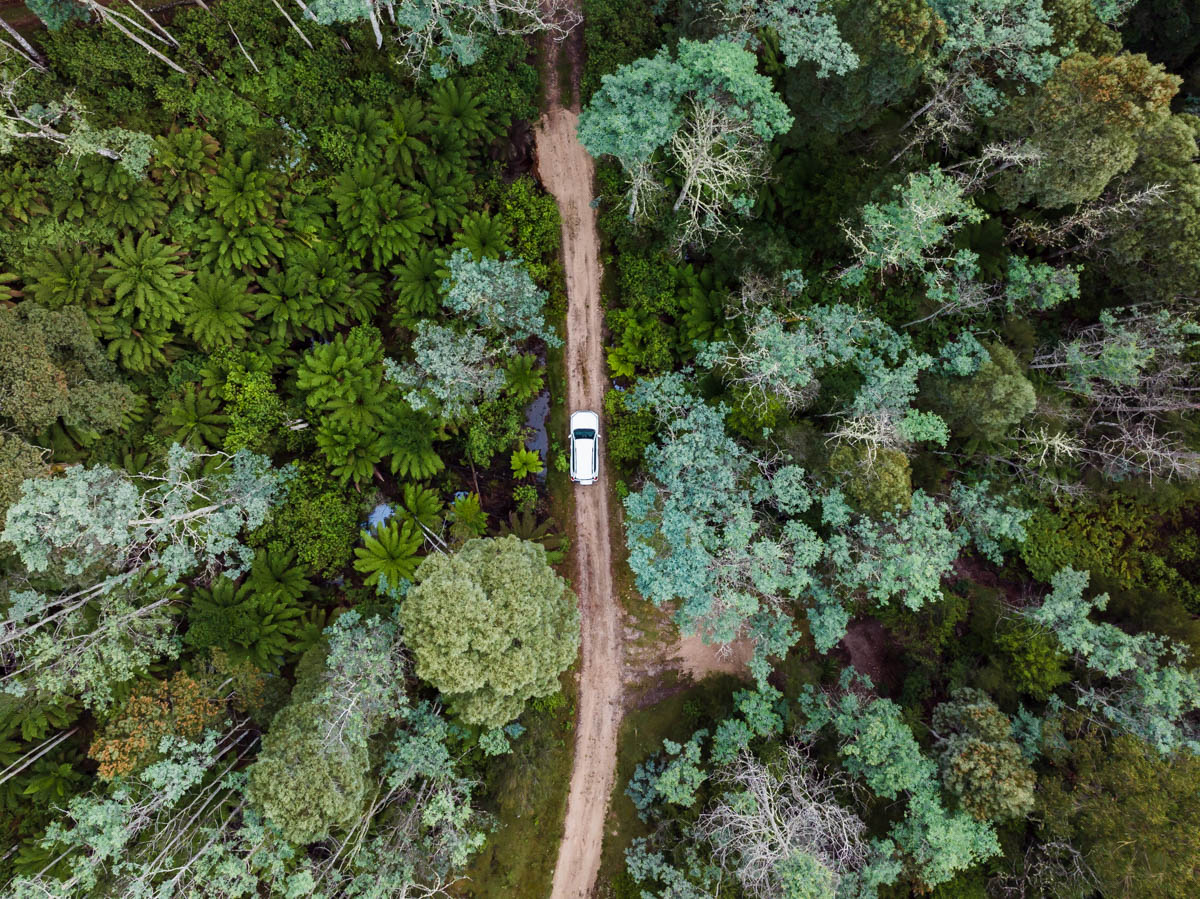 Weymouth
Weymouth possesses an understated charm that is often overshadowed by the island's more famous destinations. This tranquil coastal village along the northern Tasmanian shoreline serves as an oasis for those who appreciate the subtle allure of untouched nature and an unhurried pace.
A step into Drift Beach Shack is a step back in time, where the allure of a 1950s beach shack blends seamlessly with modern-day comfort. Every inch of this meticulously restored haven speaks of owner Karen's thoughtful approach, striking the perfect balance between vintage charm and contemporary luxury.
From the tastefully curated mix of furnishings, handcrafted ceramics, and rattan light shades, it's evident that no detail has been overlooked in creating an inviting and serene space for guests to recharge. The surrounding coastal native and succulent gardens provide a lush, sensory delight, while nearby nature walks through the reserve and along the river unveil the breathtaking beauty of Tasmania's landscape.
We loved exploring this region and Karen's personal recommendations for where to eat and what to do were spot on. From dropping into George Town on our way to Weymouth for the most delicious (and reasonably priced) seafood, to brunch at nearby Bridport Cafe where after a delicious meal we took a walk along the most beautiful and secluded beach. We loved exploring this entire region and Drift Beach Shack was the perfect place to base ourselves giving us a gentle reminder of the charm of simpler times and the importance of disconnecting from the world and reconnecting with ourselves and loved ones.
A big thank you to DriveAway Holidays for partnering with us on this incredible journey through Northern Tasmania. With the freedom to hit the road and explore at our own pace, we were able to truly experience the slow travel ethos of Life Unhurried. Road trips provide the perfect opportunity to connect with a destination, to uncover hidden gems, and to create unforgettable memories along the way.