Travel is ramping up again and with it the desire to spread our wings and shake off the past two years of being relatively stagnant, some within a tiny 10km radius of home.
Whether you're planning on heading interstate or are off on a slow sojourn overseas, it's easy to get caught up in the details and not give much thought to your carbon footprint.
But what if we told you that travelling more sustainably is not as hard as you think? Keep reading for a list of small ways you can reduce your footprint while seeing the world.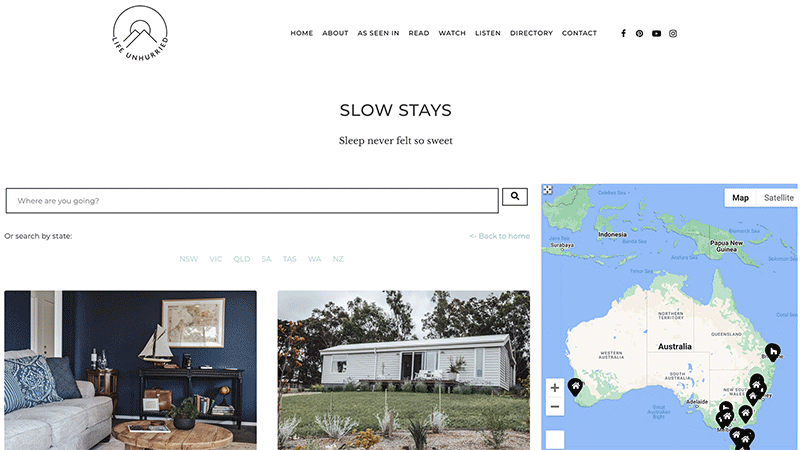 Book A Slow Stay Ahead Of Time
Preparation is everything when looking for somewhere to rest your weary head after a day exploring. Not only do you want it to have all the mod-cons to make your stay comfortable, but if you filter the list down to sustainable accommodation, you can also feel pretty darn good about it too! To scroll through a curated list of slow and sustainable stays in Australia and New Zealand, head to the Slow Stays directory. 
You'll thank yourself for packing lightly when lugging your suitcase through the airport, up and down stairs, and onto public transport. But there's also another upside to taking only what you need. The less you jam into your bags, the lighter the plane will be, which results in less fuel being required to get you and your fellow travellers to the chosen destination. If you've ever needed a push to create a capsule wardrobe, this is it! Swap the five pairs of shoes for two, tip your beauty goods into smaller containers (and cull what you don't really need) and rent what you can (for example, snow gear) on the other side. 
Organic Cotton Travel Packing Cubes by Northern Olive
Boarding a plane to go to some far-flung destination is about as exciting as it gets after years in lockdown. And while flying isn't the greenest way to travel, when you live towards the bottom of the world, often it's necessary. Next time you're booking a flight though, you can select a more environmentally friendly trip by choosing to skip the stopovers and fly direct. It's an interesting fact that a hefty chunk of an aircraft's carbon emissions occurs during take-off and landing. 
Pop on the Do Not Disturb sign on your hotel door and leave the hotel cleaning for someone else to enjoy. Whilst it is a holiday luxury to have a clean room to return to each day and new towels hanging in the bathroom, it comes at the expense of the environment. A constant cycle of washing, drying, and vacuuming is an express pass to sending your carbon footprint soaring while travelling, so think again as to whether you really need fresh bed linen on day two of your stay.  
Brew Wood BYO Coffee Cup by KeepCup
BYO Coffee Cup And Drink Bottle
Coffee and water: two drinks that are almost as important as each other when gallivanting around the world. Instead of using travelling as a reason not to tote around your reusable cup and drink bottle, do the opposite, and help the environment by keeping plastic bottles and single-use coffee cups to a minimum. Obviously, there will be times where this is near impossible due to the water quality of some countries, but in that instance, buy as big a drum of water as you can get and refill before heading out for the day or invest in a portable filter. 
Travelling somewhere hot? North Queensland, Indonesia, Morocco? When you're not in your room, flick off the air-conditioning unit and lights, and save that energy for when you really need it—like after a sweltering stroll around the medina of Marrakech. While some new hotels are implementing automatic kill switches to improve their sustainability, most units still chug along whether you're in the room or not. Being a little more mindful is an easy way to help reduce greenhouse gas emissions.
Jump On A Train, Bus Or Bike
Often the best way to sight-see is by public transport. Jump on a train, bus or grab a city bike and not only will you rub shoulders with locals, and hopefully snag a few insider tips, but you won't have to navigate unknown roads or tight parking lots in a hire car. It's a win-win. And on top of all the pros, you'll be saving fuel and doing the environment a favour.
Opt For Low-Carbon Adventuring
Depending on the destination, there's always the choice to opt for activities that do less harm to the environment, consuming way less energy (if any) than others. Dive into the deep on a snorkelling exploration, kayak along magical rivers, hit hiking trails for jaw-dropping vistas or dance along hidden waves… the guilt-free opportunities really are endless.

Locally made sourdough on Bruny Island
There's no better way to plant your feet firmly in 'place' than tasting and inhaling the local cuisine. Devouring regional dishes from locally owned restaurants or food stalls, is good for the soul and stomach, plus it creates a lower carbon footprint with fewer food miles needed to bring the produce from farm to plate. So, skip the big chains and familiar names, and hunt down the little guys—no doubt, you'll leave with a tonne of gastronomic experiences you'll talk about for years to come. 
Give Back A Little (Or A Lot)
You deserve a holiday—to sit back, relax and sip on cocktails between pool swims. But, if there's a time where you want to give back a little (or a lot) when you're on vacay, then you can make a difference by booking accommodation that has a focus on regeneration or wildlife conservation. Get your hands dirty, help plant some trees and rest a little easier knowing you're doing something good for the planet. Why not start with these 8 Slow Stays that give back?