Ever dreamed of running away to Bali or wished you could swap the demands of work and family life for self-care at a surf and yoga retreat?
The island is a magnet for overworked, stressed and tired souls who are craving a re-connection with themselves, and the chance to re-align. On any given day, you'll find kindred spirits taking to the ocean or rolling out their yoga mats in shalas from Seminyak to Ubud. They're sitting in the cafes sipping their tumeric lattes and refuelling with buddha bowls and raw desserts.
This dreamy lifestyle is what attracted Yeni Canelon to uproot her life to Bali. Originally from Venezuela, Yeni grew up in the archipelago of Los Roques in the Caribbean Sea. After travelling and coaching surfing for over 10 years, Yeni knew she wanted to create her own retreat. A place that would encompass all the things she loved and enable her to have her dream job.
"My life just before I came to Bali was super simple," she says. "After studying Oceanography, specialising in conservation, I decided to take a year off. I was 26 and took the time to enjoy every day – slow down and surf, practice yoga, dive and cruise around the islands in Los Roques. Before that I was working on hospitality for 365 days without taking a day off… I was in paradise, but didn't really take the time to enjoy it."
After being in Bali for two and a half years, Yeni landed on a sweet gig coaching women in the surf and realised her love for working with females in the wellbeing space. After the job ended, along with a long-term relationship, Yeni says, "I felt like Bali was letting me know that it was either time to move on or begin my own story."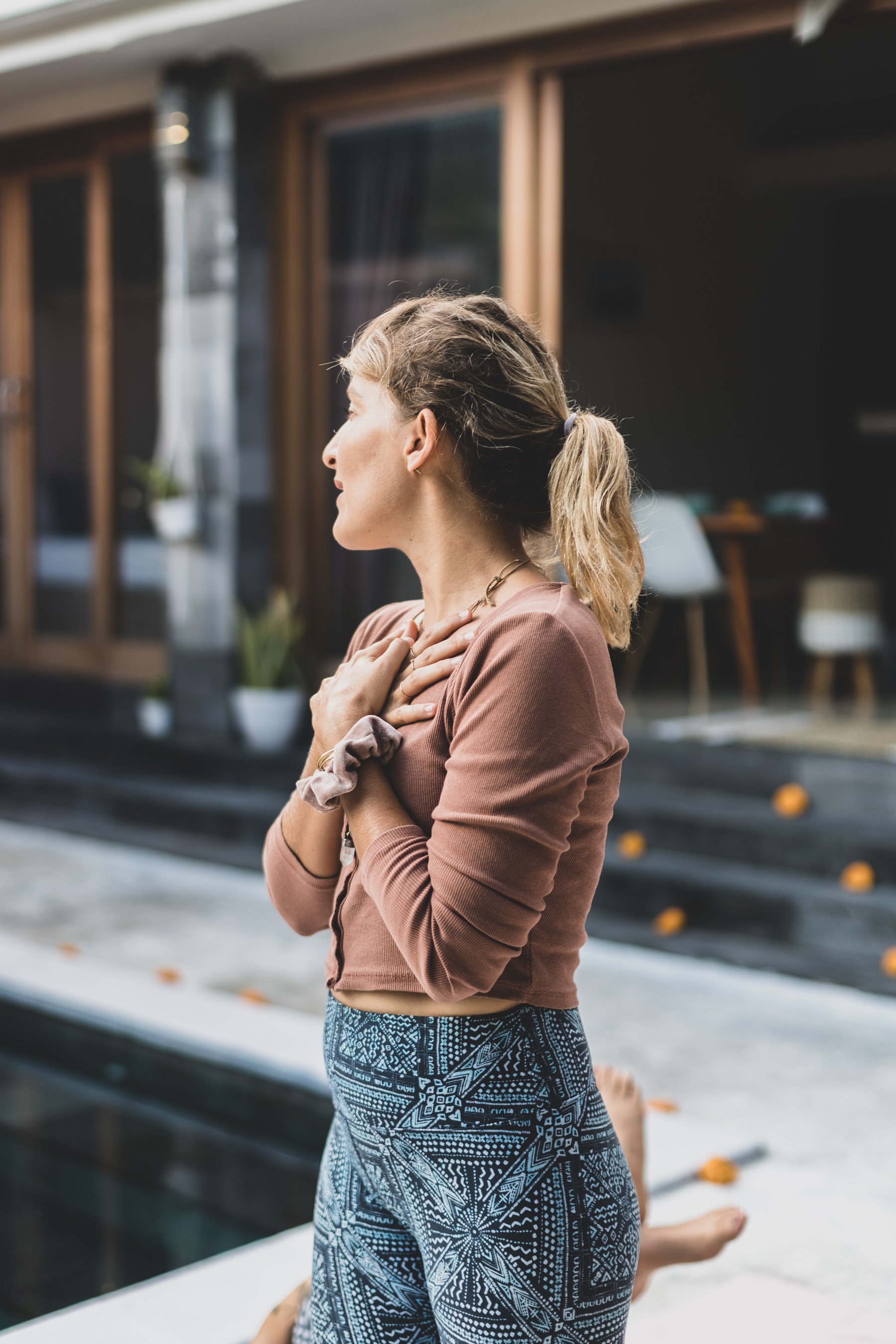 And so Salti Hearts was born – a surf, yoga, meditation, and fitness retreat especially designed for women. A channel through which Yeni can combine her passions and live in the ocean every day. It's the epitome of a Life Unhurried.
"Bali is a very unique place. It's an island where you will find beauty, softness, a different smell, a different feeling, and it will definitely allow you to slow down," Yeni says.
A typical retreat centres around the daily flow we often fantasise we could mould our everyday lives around. Here, mornings begin with yoga and meditation by the pool in the Salti Villa in Umalas followed by a bountiful healthy breakfast, with time to eat mindfully, free of distraction – no takeaway coffees and Vegemite toast munched on the run. 
Then you can expect to spend two to three hours in the water, building and perfecting your surf skills, or starting completely from scratch – enjoying the feeling of the salt on your skin, the sun on your face, or even just embracing the ocean's meditative rhythm and connecting with girlfriends, old and new.
"I think what makes Salti Hearts different from the rest of this yoga retreats here in Bali, is that Salti Hearts is very personal," Yeni says. "I'm here to be their host, but also their friend and their coach depending whether it's surfing, yoga, meditation, or even having a chat. 
"They are being taken care of, but also in a safe space where they can share as much or as little as they want, and they can experience a beautiful transformation just because you really come to your true self."
This pursuit of transformation, healing or discovery of your true self is complemented by Bali's barefoot nomad lifestyle. Guests visit a different cafe each day to experience the coffee culture and spend afternoons either exploring independently or chilling back at the villa, lazing in a hammock reading, swimming, or being treated to a massage. 
Rather than days ending in rush hour or in the madness of the dinner-bath-bedtime routine of home, the evening provides the chance to unwind with a relaxing, healing yoga practice – as Yeni says, "to bring softness to the body" – and enjoy a delicious dinner.
But perhaps even more important than the inner journey a retreat provides, it's the connection to each other that will fill your cup. It's what provides Yeni with such a sense of purpose and confirms she is right where she needs to be.
"Every time I have a retreat and they leave, it's a different sensation, it's a different feeling, and it's a different growth for myself," Yeni says. "It's an honour for me to realise that the time that they spend here in Bali and at Salti Hearts with me, has definitely made an impact on their lives in order to make whatever little, or big change in their life to be happier."
Find out more info and book your retreat with Salti Hearts – or just a stay in the Salti Villa – here.