Three years ago when Sophie Kovic couldn't find any decent non-plastic lunch boxes for her son, she had a life-changing idea that would spark a world-changing product range. 
Top:  The essential mixed mesh tote. Bottom: Six large interior pockets in the reusable market bags keep things sorted.
After successfully launching with a single lunchbox on Amazon then creating a Kickstarter campaign to test the market in Australia, Seed & Sprout was born. The eco-friendly store offers ingenious and stylish solutions for plastic-free living, with everything from silicone food huggers to bamboo cleaning brushes.
With the motto, 'Say see-ya to plastic', Sophie and her team are on a mission to make plastic-free living easy. We chatted with Sophie from her Byron Bay HQ about all things sustainability and business, ways to make a difference, and what living a Life Unhurried means to her.
LU: The idea for your business was spurred by your son's school's policy on disposables – how do you feel when you look back on your life pre-Seed & Sprout?
SK: My life was very different in the sense that I was not coming to work every day but it has not completely changed; I have always been on a bit of a journey to do better and be better. Seed & Sprout is something that I am really proud of, especially how far we have come in such a short space of time.
My work life balance is not where it needs to be but that is the nature of being in small business. My team is incredible and so is our community
LU: What were you doing before?
SK: I have actually done many things in my time, I started out as a Candy Bar kid at the local cinema and moved to become the general manager. I then went on to start my little fashion label which was sort of my first dip into small business, I then started a business called Flock Stocks selling feather hair extensions which won a build a business comp and flew me to New York to meet some of my great mentors like Seth Godin. From there I started doing phone apps which allowed me a lot of personal freedom to be a mum and that led me to wanting to create something that was not only fulfilling a need for my son but also fulfilling me personally, with a vision to create a better world through small manageable steps.
"I have always been on a bit of a journey to do better and be better"
LU: Since starting Seed & Sprout how has your wider world view on sustainability evolved?
SK: I am learning as I go, it's an evolving process. It's certainly not an overnight thing. I am exposed to a lot more information and people's view points thanks to social media.
Every day I am learning something new along with our community, and that is really exciting.
LU: The idea to send out tree seeds and plant a tree with every order is beautifully green – what other ways do you underpin your business with eco ideas and practices?
SK: Our whole business is based around sustainability, trying to educate people to make the switch to more sustainable solutions for the planet and our future.
We love to get involved with environmental and wild life causes, we are a big supporter of SeaBin who do just what you imagine; go around the world installing bins into the oceans (especially near docks and piers) that collect sea rubbish and tiny micro plastics which is so cool.
For Earth Day this year we also created an earth conscious (climate neutral) tee with a thought provoking message: 'Sustainability; treating the world as if we planned to stay' with 100% of the profits going to Aussie Ark which is a great organisation that protects Australia's most endangered wildlife – we plan to go and release some gorgeous quolls back into the wild with them soon!
Top:  The organic mesh produce bags help you cut out plastic in the fruit and veg section. Bottom: The Sustainability Tee.
Our whole business is based around sustainability, trying to educate people to make the switch to more sustainable solutions for the planet and our future.
LU: You recently made the decision to focus reforestation efforts solely on the Amazon for the remainder of 2019. What other causes do you feel passionately about helping to ease the effect on the environment?
SK: Ocean plastics is a huge one for us, we really want to get more heavily involved in this, whether it's with SeaBin or taking a trip out to the great Atlantic garbage patch and trying to clean it up!
We'd also love to go into places that we Aussies like to holiday like Thailand and Bali and implement programs to help clean up the beaches and oceans. And not just clean up but take that rubbish and hopefully recycle it and turn it into something new, as we continue to grow it will be very exciting to try to live out these dreams.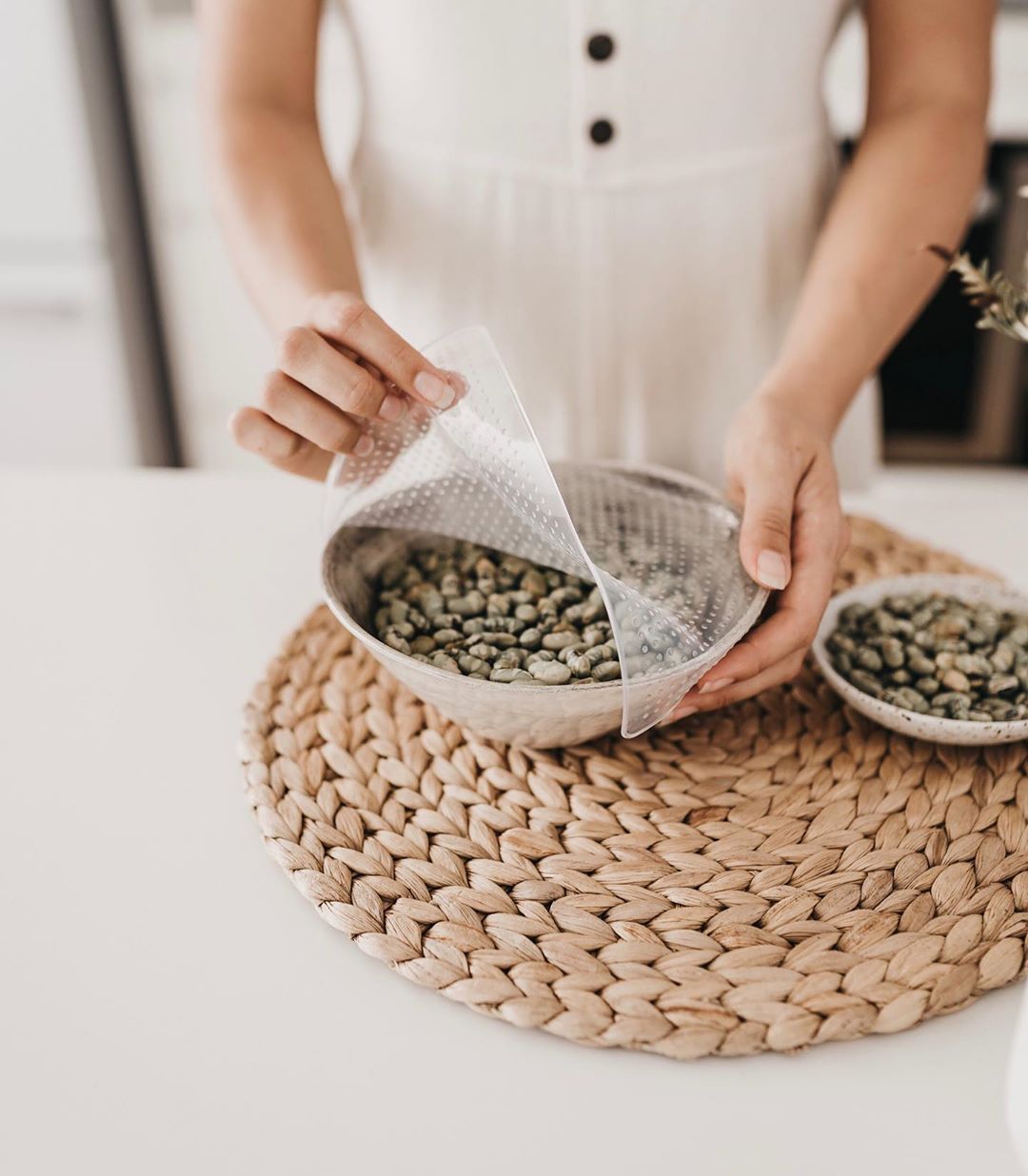 Top:  The popular Organic Farmers Market Shopping Bundle. Bottom: Reusable clear food wraps help banish cling wrap and can also be used in the oven in place of baking paper!
LU: What are some of your most popular items and what's the feedback you most constantly receive?
SK: Our Farmers Market Shopping set is really popular, it's a 14 piece 100% organic cotton bag set with two sets of bags so that you can keep one in your car and one by the door so that you are never without reusable bags – people really love the quality of these bags and all our products in general. We really take a lot of pride in the quality of products that we bring to market.
People also really get excited about our food savers; our sand based silicone food huggers, stretch lids, pouches and wraps – they're such a great alternative to single use plastics replacing things like cling wrap, zip lock bags, sandwich bags, freezer bags etc and are also vegan unlike beeswax wraps
LU: What are 3 of the quickest and easiest ways people can make a switch to plastic-free living today?
SK: Remembering your reusables! It sounds easy but in such a fast-paced world, sustainability is about slowing down our consumption and minds so that we can remember to take our water bottle, reusable containers, utensils and bags out with us
Taking one small manageable step at a time, trying to take on a zero waste lifestyle all at once can be overwhelming and you can easily give up, so we suggest taking small steps
Gently refusing single use plastics, asking the waiter to leave out the plastic straw, or the plastic spoon when you get an ice cream, things like that also help to educate the person serving and those small actions over time really do create a difference.
This image:  Your lunch never looked this good.
This image:  The Eco Brush Set helps you clean up your plastic free act in the bathroom, too.
"Trying to take on a zero waste lifestyle all at once can be overwhelming and you can easily give up, so we suggest taking small steps"
LU: Running your own business can be exhausting… how do you make time for family and self care? What are some of your favourite ways to unwind?
SK: I like to turn my phone off or not take it to places when I have a day off or go on holidays; I love to choose places that are off grid that has no internet or reception!
I am learning to be a lot more disciplined clocking off when I leave work and on weekends and evenings so that I can be present with my family rather than working all waking hours of the day!
LU: What does a Life Unhurried mean to you?
That's really what I am aiming for, a life where I am able to actually connect, without the pressures of the 9-5 so that I can really spend time with my loved ones. And do things that have meaning that aren't just being busy for busy's sake! 
Connecting with nature, cooking slowly, making things. Just being, rather than doing.