With 'Give First, Wear Second' as its guiding mantra, Smile Clothing is changing the lives of children around the world while you feel good in their threads.
What started as a simple idea – to help give purpose to world wanderings in search of surf – has blossomed into a socially conscious clothing label, providing thousands of school uniforms and T-shirts to kids in need.
With roots in Queensland's Sunshine Coast and now based in Bali, Smile Clothing operates on a one-for-one model – for every item of clothing purchased, they donate an item on one of their next clothing drops in areas in need of aid. Since 2010 they've given away thousands of shirts to orphanages and schools across Indonesia, Cambodia, Philippines, India, Indigenous Australia, Kenya and Sri Lanka.
This is stripped-back consumerism, focussing on slower, more conscious consumption in a world of fast fashion. By supporting a small business with big dreams like Smile, you're able to give and receive so much.
We sat down with co-founder Soren Molineux to find out more about the brand's humble beginnings and the waves they've been riding ever since.
LU: Smile has been going for almost 10 years now, how does it feel when you look back and see the wave of change you've been able to create?
SM: It's fairly humbling I guess. Not too sure about the wave of change, but we are pretty stoked that we have been able to complete our Clothing Programs for close to 10 years now, and from a broader perspective be part of businesses giving back, in our own small way.
We didn't necessarily start Smile with any timeframes or particular goals in mind, it was and still is somewhat a 'hobby business'. In saying that I guess it is a long time to look back and reflect upon the early days and where things have come from then. I hope that we have stayed predominantly on the path we set out upon, and that the biggest difference now is better clothing. We are always learning better ways to do things and in what ways we can improve, so hopefully can continue in that manner as we go.
LU: You've said in the past that it almost started as a way to give purpose to your travels; does that still ring true? And why do you think so many people want that when they're looking for travel experiences today?
SM: It is a fairly natural thing to want to help out communities to which we travel, but that can be in myriad ways. It certainly doesn't need to be clothing, or giving aid in general, but just to interact with people in a helpful manner and try and reciprocate the generosity we all receive along the road.
Anyone who has travelled extensively has that concept of 'wow', you're in these places and you're not expecting anything but then these people who clearly have, from a material sense, nothing, offer you everything.
LU: Smile started out as a hobby while you were working in banking full time… when did you make the decision to take a leap and focus on the business full time? Was it hard to leave the corporate world behind?
SM: That was in 2013, with no exact timeline or plan associated to it. Originally the rough idea was to take a career break for 12 months, but that was six years ago. It wasn't difficult to make that decision, although there is pros and cons to either path for sure.
LU: How has moving to Bali helped you to grow the business in ways you weren't achieving from afar? How has it changed your personal lifestyle?
SM: It has helped greatly, because most of our production is done in Bali, and most of our Clothing Programs are done within, or close by, Indonesia. In addition to that, just being able to focus all of my time work wise on Smile, as opposed to living in Australia and just doing what I could on weekends or late at night.
We have also been able to open a store in Bali, which came as a direct result of spending much more time here. As far as my lifestyle changes go, definitely different to what they were prior to moving to Indonesia, and without trying to sound like a broken record, there are positives and negatives to both. There's certainly more flexibility with regards to working, but of course being involved in a small business across Indonesia and Australia has its own set of complications as well.
Most people over here are either pretty relaxed locals, and you learn a lot from that, and then expats. More often than not they've placed themselves in that position for a reason and they're really energetic and positive about what they're doing.
LU: Can you tell us a little about your latest clothing drops and the response they received? What's next?
SM: Our last Clothing Programs were in Sri Lanka and Indonesia. They are always fairly well received, we have been lucky enough to build relationships with most of our giving partners so there is a sense of familiarity and trust. The kids are always epic, without doubt when we are lucky enough to go on trips and hand deliver things it is the best part of our work.
This year we will be again focusing on Indonesia and Sri Lanka, as well as wanting to arrange some Clothing Programs in Malaysia (Borneo section) and Remote Australia again like a few years ago.
LU: You guys are a member of 1% For The Planet, can you tell us more about what that means?
SM: 1% For The Planet is a Not For Profit organisation based in the USA. It is a collective of businesses that donate 1% of all sales to helping environmental initiatives around the World. we are very proud of our involvement in this initiative, and is amazing to see what the folks at 1% For The Planet can achieve.
LU: Since you started Smile, social enterprise has boomed and become much more understood within the fabric of our society – how does it feel to be a part of that? And are there other businesses/brands you hold in high regard?
SM: We are hopeful that the small giving we have been able to achieve has played some part in social enterprise being more widely understood and supported. It is really a credit to our customers over the years in supporting our One For One giving modality, more so than us in my opinion.
First hand, it is certainly easier explaining our business model these days compared to the early years, which is, as you said, more a reflection of the times and general awareness to this type of thing. There are a lot of brands we hold in high regard, but I would say Patagonia and TOMS would be at the top of the list for us. Both have done an amazing job at giving back in their own different ways, at scale as well which is quite remarkable.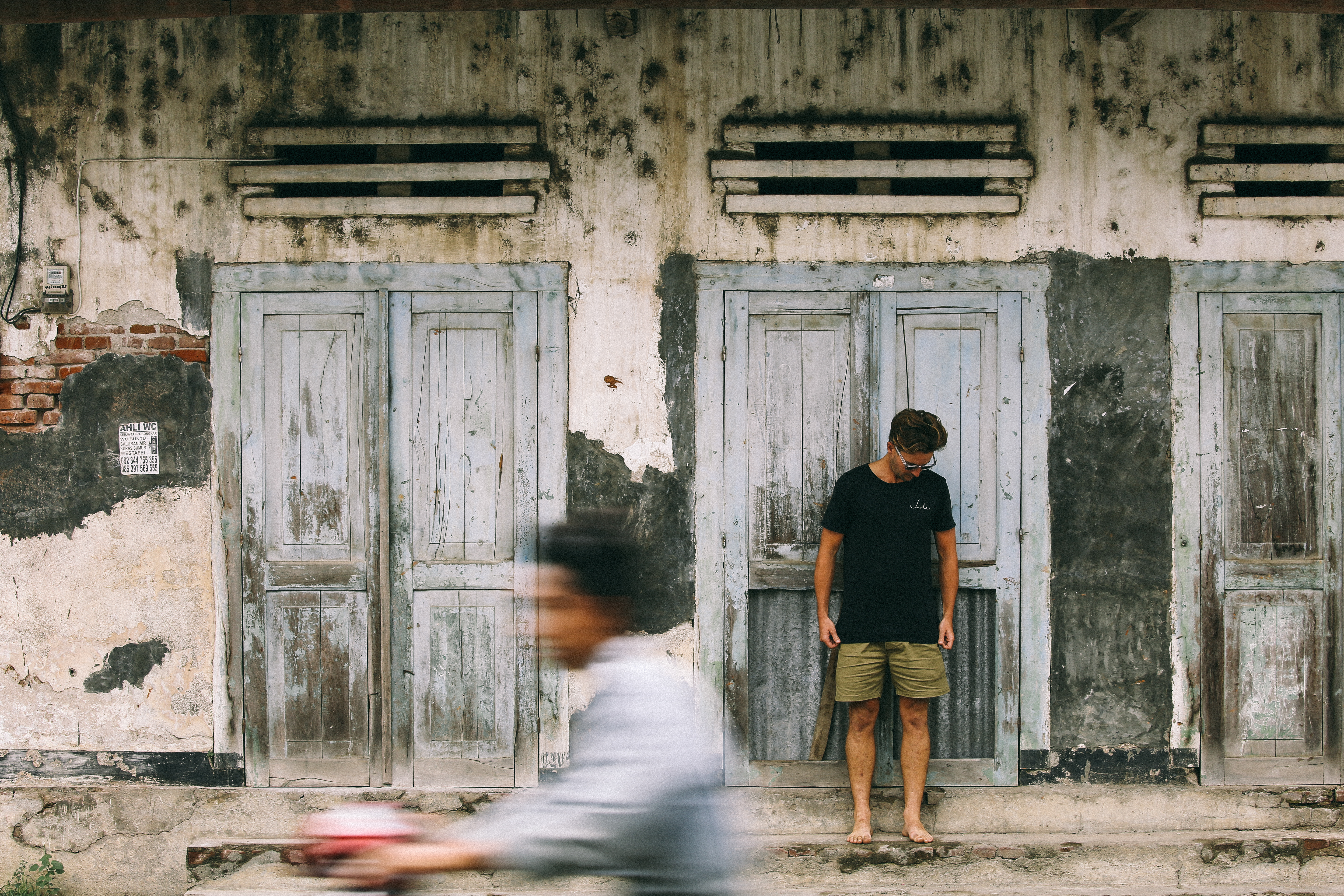 LU: Where do you hope to see Smile in another 10 years time? What drives you?
SM: It's hard to say, but ideally we would be able to be giving on a larger scale. My friends and I involved in Smile would like the focus to remain on our Clothing Programs and spreading our message of One For One giving to people that haven't heard about it yet.
We always say that if we are doing our job properly, we merely act as a conduit between people that want to give back to others in different places all around the World, and those that need assistance. Hopefully we can continue this as we move forward, with us learning along the way and trying to do things better as we go.
LU: What does living a Life Unhurried mean to you?
SM: I guess it means not being in a rush, being present in everyday life, and enjoying the process along the way. I don't think I have mastered this by any means, so I guess I would certainly be a work in progress.
I think like most things in life, balance is important, so we try to have some periods of hurried, and some unhurried (to borrow the parlance).