Australia has pretty special beaches, it's true. But you haven't seen the best of them until you've gazed your eyes upon Tasmania's east coast. With pure white sands and crystalline waves splashing on the back of fiery red rocks, it's the kind of coastline that makes you feel like you're the first to ever set foot.
Flying into Hobart from mainland Australia is a bit like travelling back 50 years in a time machine. From the plane window you can't see much going on except a massive array of rivers leading out to the ocean below. Then, a wild coastline with horseshoe shaped aqua bays, untouched rock ledges, and sometimes even a bit of crisp snow on the hill tops that rise above.
What strikes you immediately about Tasmania is the lack of development. Buildings are few and far between, and very rarely propped up against the sand dunes as is the case on the mainland.
On arrival in Hobart, the runway is bare. An old cottage is the first thing you notice when you step out of the plane, immediately giving you a sense of Tasmania's complicated colonial history.
About 30 minutes drive away, the capital's CBD is compact but with a big culture to show off. From food fairs to outdoor concerts, this little social hub loves to party.
Hobart is the type of place where you can find any just about any cuisine, from a fresh lobster roll to a Michelin-star worthy meal. If you love a good story behind your food, you'll notice most restaurants are loyal to their island, only serving produce grown in the local surrounds.
Taking time out in this quaint metropolis, you'll be surprised how much there is to do. A favourite spot is Salamanca Place, with its stunning sandstone buildings and old warehouses-turned-boutiques. The local food and gift market makes the street come alive every Saturday morning.
If there's one thing not to miss in Hobart, it is hands down, don't even bother going to Tasmania if you're not going to go there, Mona. This mostly underground art museum houses a mind-twisting collection of eccentric works paired with a wine bar and outdoor beer garden, where you can sit in a bean bag after you've had your mind blown and enjoy a brew in the sun.
Once you've eaten your way around Hobart, get ready to drive northward and see one of the most pristine and dramatic coastlines you'll ever lay eyes on.
Driving up the A3 highway from old Hobart town, take a break at the picturesque one-street-town of Orford, and set up by the river for a delicious takeaway pizza (pretty much the only restaurant you'll see for a few hundred kilometres).
Further north, you'll meet the spectacular coastline when you hit the road that winds gently around the shore, just south of Coles Bay at Swansea. The colour of the water is like a brochure from a tropical island and you might need to remind yourself not to jump straight in unless you've packed yourself an epic wetsuit (it's icy)!
A cute stop for for a bite to eat is Kate's Berry Farm at Swansea. Doing what Tasmania does best, the cold-climate fruits and berries grown on site are served from paddock to plate in seasonal mouthwatering pies and desserts. If you have a sweet tooth, you won't be disappointed.
For those whose savoury cravings call for attention, drive a little further on to Melshell Oysters on the Swan River, where you can literally gorge on as many fresh oysters as you can eat, straight from the farm gate. The family-run business prides itself on it's complicated two-and-a-half-year growing process, making these morsels some of the best in Australia. While it's possible to get this particular product in many good restaurants, to sit and eat them after just being harvested is an oyster lover's dream.
Feeling full? Drive on to Coles Bay and get ready to burn off those berries! The great Freycinet National Park awaits you with its steep and winding 45-minute walk up to the stunning Wineglass Bay lookout.
One of those spots you've probably seen a million times on Instagram, Wineglass Bay is by far one of the prettiest beaches in Australia. A feeling of gratitude comes over you when you eventually reach the summit, not just because you made it without a major health meltdown, but because mother nature puts on her absolute finest show here, turning on all of your senses to the colossal beauty of the untouched ocean.
When your Into the Wild fantasies finally subside, meander back down the hill to the Iluka Tavern at Coles Bay and unwind with the rest of the day-trippers to talk about your trek. The gorgeous Honeymoon Bay just across the street provides a ridiculously beautiful spot to bathe your bod in the sunset, set up a little picnic, and if you've booked ahead, settle in for the night.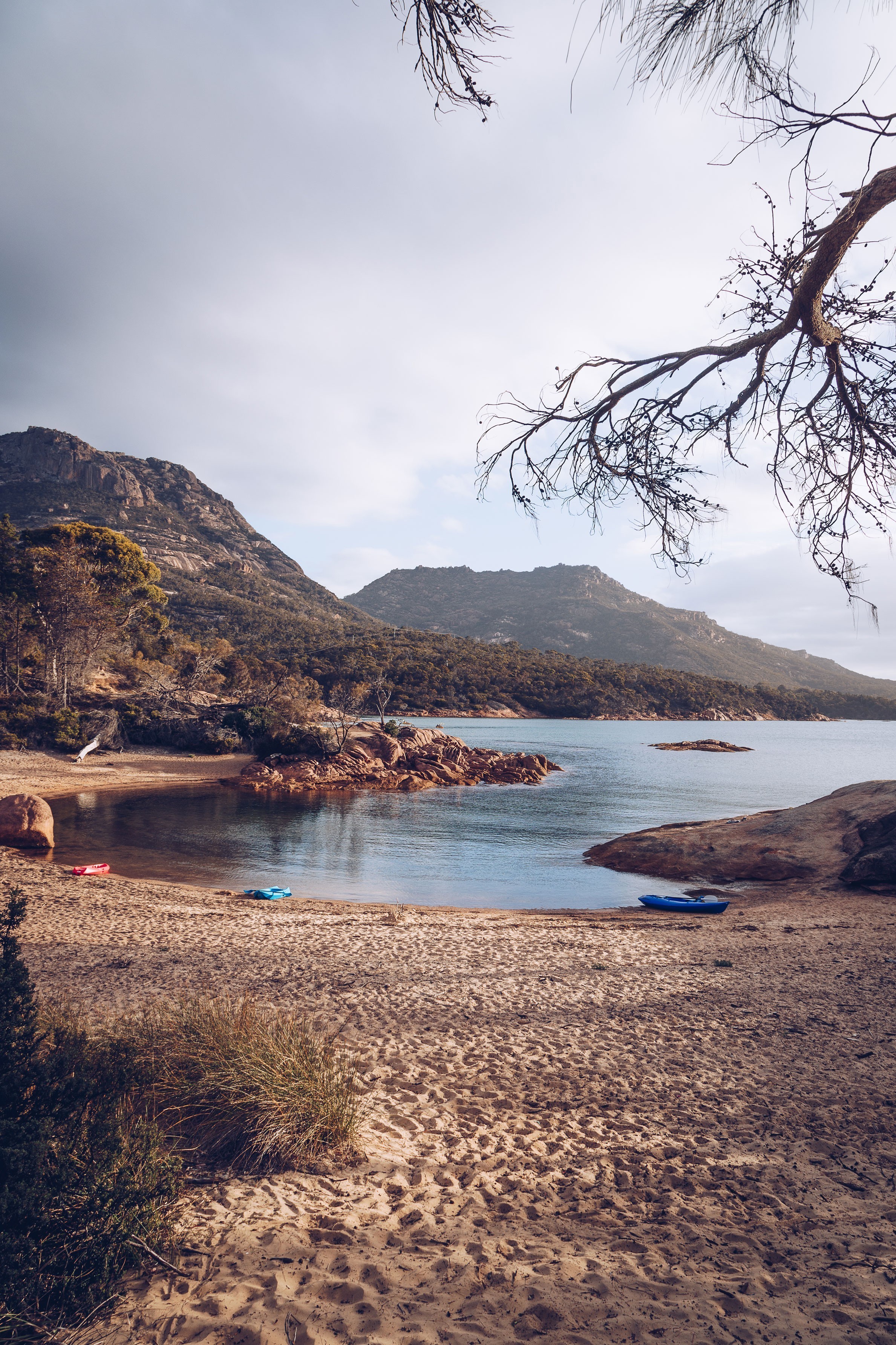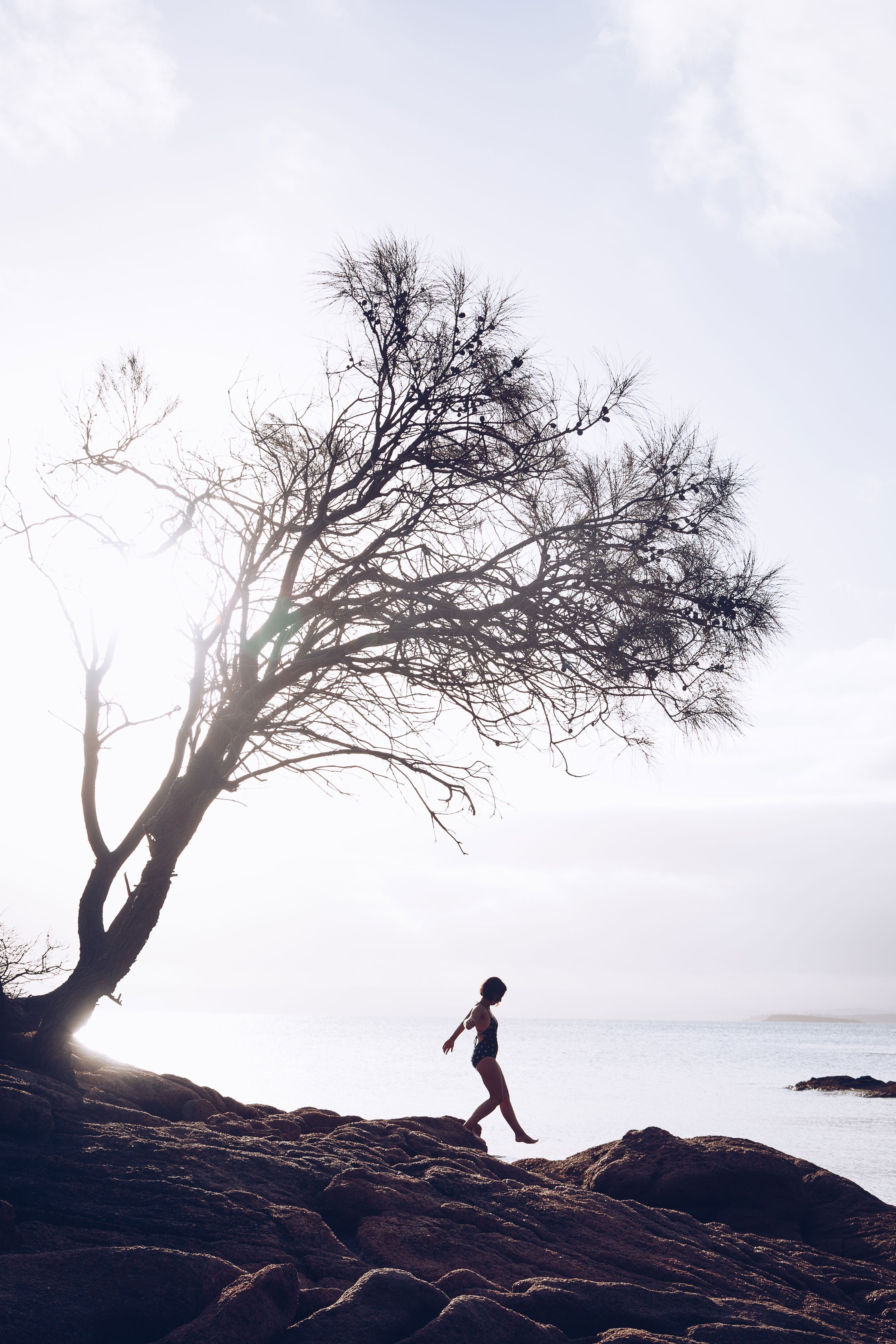 Wake up early and venture on upward to Bicheno, where you'll want to see the ladies at the Farm Shed. These foodies know how to get your day started the right way with awesome coffee and a crazy good breakfast. The shed also has a retail store where you can stock up on local delicacies in case you still haven't had enough.
Just over an hour north of here is what will be the pinnacle of your adventure when you reach the jaw-dropping Bay of Fires at Binalong Bay. Massive red boulders and rock platforms sit dramatically above perfect white sands. Aqua blue water laps gently into tiny bays swerving in and out from the the shrubbery. It's easy to feel overwhelmed; you're not sure where to look or if your eyes can take it all in. The beauty of this place is truly enigmatic, and really has to be seen firsthand to describe.
A day of just looking will pass pretty quickly, so make sure you pack a cheese platter and enjoy the sunset on one of the many untouched beaches where you can sit all alone, with one of the most spectacular views in the world.
If time is of no importance, you can venture from here to the north coast, the rugged west coast, the snowy Ben Lomond National Park or the famous Cradle Mountain. But if you only have a few days, venture back to Hobart via colonial Richmond for a home-cooked pub meal and a Tasmanian local beer on tap.
The inland highway will only take you 3.5 hours from the Bay of Fires if you need a speedy exit from this remarkable island but with so many beautiful places to see, you'll really find it hard to get back on that plane.
The best thing about Tasmania, is that it's slow. Slow food, slow living and a slow footprint on its heavenly wilderness.
While the rest of the world speeds ahead sometimes too fast to keep up with, Tasmania will stay put like an old friend for you to come home to whenever you need to remember you actually can stop progress, because there's no place like the present.
*Many thanks to Driveaway Holidays for their assistance with wheels for this trip. Book your own road trip here.