A tiny powerhouse of slow travel and long considered a holiday destination for many a mainlander, there's clearly something in the water on the Apple Isle.
Tasmania's irrepressible charm lies can be attributed to its inspiring wilderness and its sheer variety of experience – impressive considering its diminutive size. But there's also another reason to travel: to experience some of the best cottages, cabins and beach shacks this side of the Southern Hemisphere.
From Hobart to Launceston, Cradle Mountain to Wineglass Bay, here are 10 more Tassie Slow Stays worth crossing the Bass Strait for. (In case you missed it, here's 12 to get you started.)
NAIVASHA COTTAGE AND TINY HOUSE
Reedy Marsh, TAS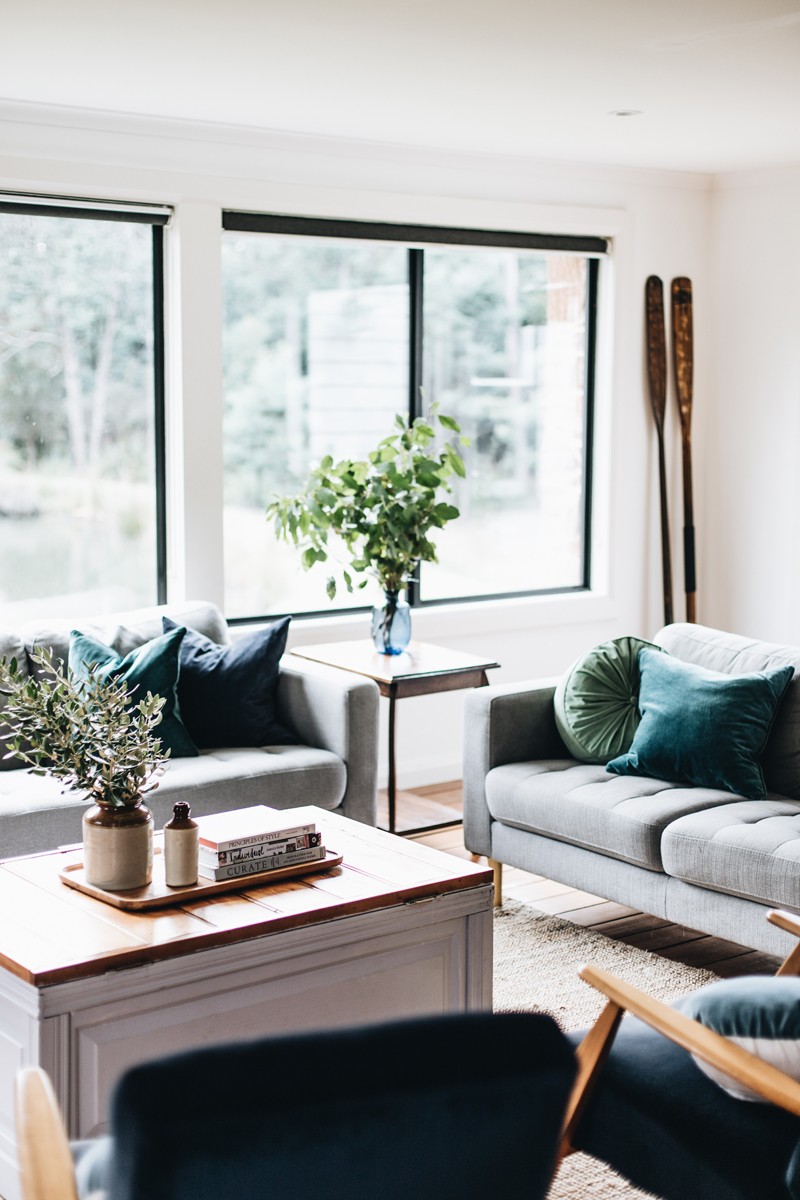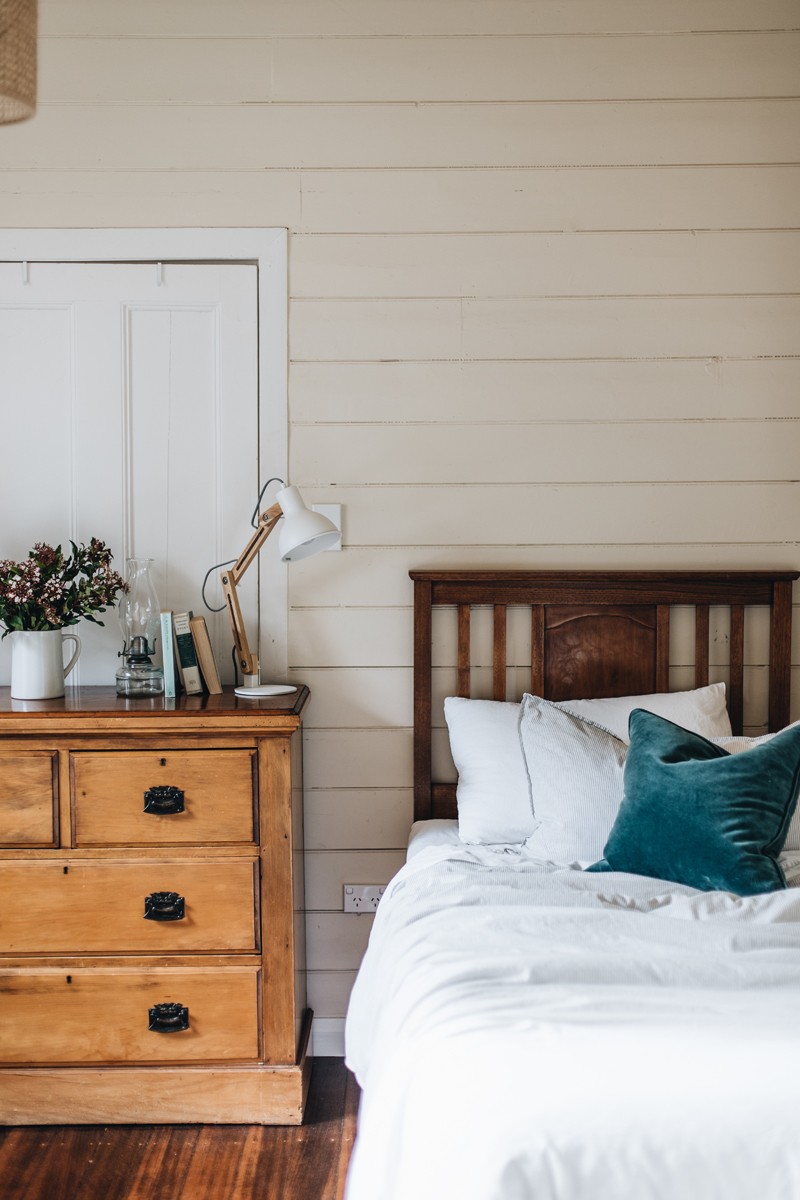 A trip across the Bass Strait would not be complete without a stay in a wooded cottage or a tiny home and Naivasha delivers on both fronts. With two properties, Naivasha Cottage and Naivasha Tiny House, each has its own appeal. Built by hand from the surrounding landscape – timber and stone collected from the property – Naivasha Cottage's 100-year-old bones overlook a peaceful lake with space for six. Five minutes from historic Deloraine, you may find leaving hard to do with picnics by the pond, stargazing, reading by the fire and even foraging for your own fresh eggs all on the cards here. The tiny home iteration of Naivasha channels the same rural charm, in miniature. Nestled into a clearing among dense Tassie bushland, Naivasha Tiny Home is a romantic getaway for two with features that belie its small size. With a claw-foot bath inside (a rarity for a tiny cabin) and a showstopping wood-fired hot tub out under the stars plus a fireplace inside and fire-pit outside, the hardest decision will be where to spend your time relaxing.     
SHOW ME MORE
SHOW ME MORE
CHAMBLS SHACK
Verona Sands, TAS
If the sun-drenched living room (thanks to floor-to-ceiling windows) and renovated 70s shack with vintage and recycled treasures throughout doesn't lure you across the Bass Strait, then Chambls Shack has plenty more to woo. Set on the hill above Verona Sands beach, there's ocean on one side and bush on the other so you can take your pick to explore. Spy seals splashing along the placid shoreline or cosy up in front of a crackling fire. Despite being only minutes from the sleepy township, you'll feel as though you're a world of your own bunkered down with family and pets in the three-bedroom getaway where time stands still.
SHOW ME MORE
FLAX AT DUCK REACH
West Launceston, TAS
Originally built as workers' living quarters at Duck Reach Power Station, Flax at Duck Reach in West Launceston now provides a storied escape for lovers and lovers of history alike. Filled with bric-a-brac that lends the space both warmth and a rich sense of belonging, everything about the interiors has been thoughtfully done to reconnect guests to both past and present. Hike the cabin's namesake trail from right outside the door and explore Cataract Gorge before winding your way slowly to some of the town's best eateries for a romantic dinner.
SHOW ME MORE
BIRDSONG ADVENTURE BAY
Adventure Bay, TAS
Adventure may be in the name of this Bruny Island bolthole's location but it's something of a red herring because Birdsong Adventure Bay sets the tranquility bar high. Holiday mode takes on a slightly different timbre and slow is the pace. There's no misnomer when it comes to the other part of the name though: bird song is a constant soundtrack with the sweet symphony set to surround sound. Hiking and bushwalking are at the back door and 10.5 hectares of lush Tassie bush brims with native flora and fauna in the shadow of Mount Mangana. Family friendly (including your four-legged pal) or for just the two of you, Birdsong is made for soaking in the beauty of the bush and the beach at the same time.
SHOW ME MORE
BLUEBERRY BAY COTTAGE
Lymington, TAS
Making its home on a slender finger of land in the mighty Huon River, Blueberry Bay Cottage is a bucolic Tasmanian getaway where the fairytale starts with long walks on the shore and ends with you in the wood-fired hot tub, bubbles and fresh harvested oysters in hand. Surrounded by eight hectares of natural bushland and views out across the riverine valley, the sun-dappled (and pet-friendly) cottage feels far away but never lonesome – only 10 minutes from the quaint town of Cygnet. Laying on the charm from all angles, it's the kind of location that leaves your cup well and truly filled after only a couple of nights: time slows and the days stretch languidly between sun up and sun down.
SHOW ME MORE
CROOKED CHIMNEY COTTAGE
Avoca, TAS
Rescued from the wrecking ball and lovingly restored, former miner's cottage Crooked Chimney Cabin has found a new life as a charming rustic stay. Making its home just outside Avoca on the open grass-fringed landscape, it's East Coast Tasmania's answer to the call of cute country escapes. With sheep roaming out the back and the house backing onto St Pauls River, you can choose to soak in the serenity or escape to adventure at St Helens, Hardy Falls or sip a tipple (or two) at Cranbrooke.
SHOW ME MORE
GLENEAGLE TASMANIA
Riana, TAS
Glamping in the heart of a 110-hectare native eucalypt forest, a blanket of stars spread out overhead and the unique Tasmanian wildlife all around, may sound too good to be true. But then, there lies Gleneagle Tasmania beckoning from across the Bass Strait. Just outside the cutesy town of Penguin (with its own enchanting slow living, village vibe), this Slow Stay is home to a duo of geodesic domes made for romance. With a maximum three other guests on the property at any one time, solitude and comfort are the guiding lights here. Get cosy in your dome or soak up the night sky from your outdoor bath. There are walks aplenty winding across the property itself, or the might and splendour of North West Tasmania's landscapes are lying in wait, too.  
SHOW ME MORE