In a quiet tract of misty Montville rainforest overlooking Lake Baroon, under the ancient boughs of a 300-year-old white fig tree, there's a trio of romantic cottages where you can almost hear the forest spirits whispering to you. Minutes from the town's quiet streets, this Montville accommodation sits on one of the Sunshine Coast Hinterland's most historic properties.
Once resplendent with Kauri, hoop and bunya pines, the five-acre property was home for the Muirheads, an intrepid family of Scots instrumental in establishing the "mountain resort" of Montville. Arriving in Australia 1882, they purchased the site now known as Lovestone Cottages in 1906 and set about clearing the native species to make way for an abundant tropical garden home.
And while the reality of prolific clearfelling of old-growth species for timber and fruit orchards represents an unpleasant arc in this landscape's narrative, the unfolding story of Lovestone Cottages continues to be one of survival and rebirth.
Much like the Muirheads, who left the cold of Scotland in search of new fortunes, current custodians Tamara and Jonathan Large were drawn to this historic piece of land in search of different weather and a new direction. 
Hoping to escape the scorching heat of Townsville, the horticulturist/botanist and civil engineer duo cast a wide net for a new opportunity, even briefly toying with a move to Antarctica.    
After casting their sights towards more moderate conditions, Tamara says the Montville accommodation ticked a number of boxes for them, since they "have something for old wooden buildings". "I truly think it's a kind of madness," she laughs. 
Armed with knowledge from years of flipping Queenslanders, Lovestone's obvious need for "a bit of work" couldn't deter them, and in 2018, they purchased the "rural property with beautiful weather and rainforest, where I can save the world," Tamara says.  
A lengthy master planning process ensued. Then in May 2020, the gut and refit began. The plan? To complement the landscape and hero the buildings while honouring the true attraction: nature.  
"What we tried to do in the cottages is we created a view from every part of the room so it didn't matter where you stood. They could see nature and [it felt like] the bush was inside."
Despite the comprehensive renovations, the Queenslander cottage charm remains. Pistachio-washed wooden cladding blends each cottage into the dense foliage. Inside the light-filled interiors, fresh white walls are offset by contemporary design features and luxurious furnishings. There's a king bed, plush bathrobes, baths built for two and cosy fireplaces plus local brekkie hampers included, so guests needn't leave their little love-nests.
Although the "rollercoaster ride" of COVID halted progress on all but one cottage initially, when it finally opened in late 2020 the loving energy flowed.
"It was an absolute booming success," Tamara recalls. "We had just people loving it left, right, and centre."
The success is a lovely reflection of their renewed purpose – "We enjoy working hard and, you know, reaping a reward at the end. And that's not monetary value" – but Tamara says their deep sense of purpose as custodians continues to propel them.
"I get a bit antsy thinking about the future and what's going to happen there [with] climate change and so forth," Tamara explains. "That's why I'm even more hot on the trot to get as many trees in as soon as possible because, you know, the future is not looking exactly bright and sunny."
This urgency has seen them undertake "major, major gardening renovations" and implement a number of sustainability initiatives. Since taking over the property, they've removed 86 tonnes of bamboo and implemented a weeding regime to keep invasive species at bay. Ongoing regeneration efforts include planting more than 1000 new native species of trees and ground cover. Fostering revegetation of the nature reserve – protected under local council covenant – at the back of the property is another priority that sits on the couple's long list of constant management tasks.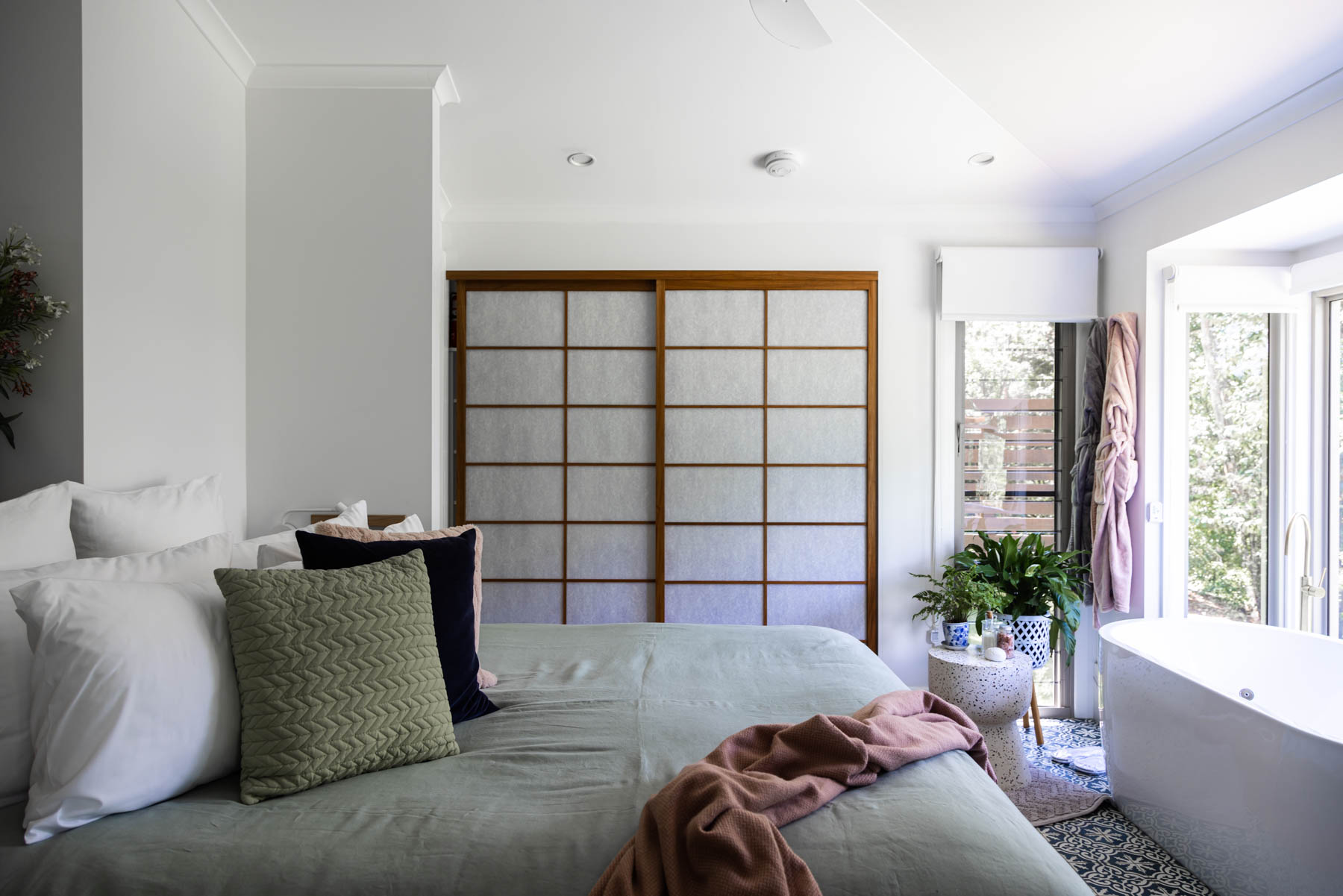 Despite the ever-growing project list, Tamara and Jonathan still find time to manage a small veggie garden with tomatoes, herbs and avocados as well as selling local honey, jams, sauces and chocolates at their Montville accommodation. And, as if that's not enough, Tamara also has dreams of creating a nursery, selling seedlings from the property and offering reforesting experiences to guests to continue the important education process and nature immersion.
For now, guests can simply let go and bask in nature from within the cottage or by sitting under the palm trees surrounded by birdsong from the perch of each cottage's outdoor patio. The property's relics and remnant gardens provide excellent fodder for a local ramble or the forest trails and national parks of Sunshine Coast's hinterland make for more active diversions.
Whatever the activity – relaxing on the patio, wine in hand with views out over still lake waters or a ramble through the lush greenness – Tamara is resolute in their purpose: "I just want guests to feel at ease."
Book your stay at Lovestone Cottages here.