As it reaches the terminus of a 120km eastward journey, the Hawkesbury River, or Derrubbin as it's known to the Dharug people, flows calmly past two Slow Stays where life mirrors the peaceful waters that surround them.
Sitting almost parallel at east and west compass points across northern Sydney, Crane Lodge in Palm Beach and Calabash Bay Lodge in Berowra are a world away from the relentless hustle and grind of the city. In fact, these two luxe getaways are so cocooned, the mode of arrival to each is as distinct as the locations – both around one-hour from Sydney's CBD.
Part of Wild Luxury, a Sydney-based luxury accommodation portfolio owned by Kim and Derek Ellis, each house is characterised by a sense of complete immersion in nature. While the first property, Calabash Bay Lodge, came into their lives through providence, the Wild Luxury credo is now intentionally built around the central theme that tethers Crane and Calabash Bay lodges together.
"Our goal is to nurture our guests by nature," explains Kim, "but also without compromising on those modern, essential luxuries we've all come to expect from a five-star hospitality experience."
Kim and Derek initially discovered Berowra by chance over 15 years ago. With their life's pace dictated by busyness, the couple sought respite from the toll of careers distinguished by late nights, lots of travel and, for Kim, chronic illness.
"I was actually introduced by some friends to the area that Calabash Bay Lodge now sits in as a place that they felt would have some really beautiful healing benefits for me," says Kim.
A wintery weekend at another water-bound location on Dharug Country, where densely forested inlets and serene bays are dotted with cute weekenders and quaint hamlets, was all it took for the Wild Luxury seed to take root.
"[We] just thought, 'Wow, we had no idea this was sitting here and it's so close to Sydney. And yet you feel like you're a million miles away'," Kim recalls.
Only accessible by boat (or the very high-flying seaplane option), Calabash Bay Lodge's knack for decompression lies in the journey as much as the destination. "To have to travel anywhere by boat to actually physically get there, it just has a way of kind of sluicing off the stress and the baggage you're carrying from your everyday life," says Kim.
Indeed, worldly worries slip away with the changing tide as your complimentary skiff arrival deposits you onto the lodge's private pontoon. Rising above the tea-tree infused waters of Hawkesbury tributary Berowra Creek, Calabash Bay Lodge is built for riverfront relaxation.
Backing up to the sandstone escarpment the region is known for, the house sprawls over three levels, enveloped by terraced gardens and tall spotted gums. With room for up to eight guests, multiple open-plan living areas are offset by cleverly executed sanctuary spaces that encourage togetherness with the option of solitude.
The drama of gum fringed waters is visible throughout the house with views through floor-to-ceiling windows from all living areas and the four lusciously appointed bedrooms. Come winter, the scene shifts. Aquatic activity is replaced by cosy moments in front of the log fire or a soak in the main ensuite's onsen-inspired tub that looks over little boats and runabouts bobbing in quiet waters.
A ground-level entertaining space opens out to a lush lawn, ringed by native shrubs planted for privacy, presenting the perfect spot for lively games of boules and a twilight barbecue. For downtime or solitude, the rooftop wellness studio comes complete with yoga mats and meditation cushions. Optional services like in-house massages, yoga teacher, paddle-boarding lessons and private chef catering top off the tranquility.
"It's actually incredibly peaceful – at both locations," Kim says. "There's very little intrusion of the sound of the man-made world; it's about tuning into the bird song and the sound of the water and the wind in the trees and it's really quite meditative."
Of course, wedged between three of Sydney's most beautiful national parks as it is – Marramarra, Ku-ring-gai Chase and Berowra Valley – there's also an excess of activities. Hiking, bushwalking, fishing, kayaking, local tours to learn First Nations lore, see a pearl farm or explore iconic landscapes filled with rock wall art. But, as Kim stresses, the real challenge is to do less.
"The key thing that we definitely promote as much as we can is allowing space in your stay to slow down," says Kim. "That's the most important thing we almost counsel our guests to do, because I feel like a lot of people are so busy in their lives and we're so used to programming every moment," she says.
Although Calabash Bay Lodge has been open to guests since 2008, Kim says Wild Luxury realised its true potential as a property portfolio with the purchase of Crane Lodge.
Standing in a rare pocket of Garigal Country that remains unabsorbed by the surrounding national parks and exists under preservation order thanks to the remnant stand of 800sqm of spotted gums, it's not without its challenges. But there was a spark of something in the property listing that caught Kim's eye. "I was very drawn to this beautiful image of these rocks and these amazing trees," Kim recalls.
The magic of this spot is, in part, thanks to the commanding geological foundation, which in turn makes it so demanding. The sandstone spine – with Pittwater to one side and the glistening waters of the Pacific Ocean to the other – rises 160 metres up from sea level. Along it, there are "pristine, beautiful pockets" of endangered native bushland filled with ancient lichen-covered boulders, towering ferns and dappled sunlight.
Just as the journey to Calabash Bay Lodge allows one to slough away the stress, the almost vertical drive to Crane Lodge, at the apex of Barrenjoey Peninsula, serves as a catharsis. Once the ascent is done, the forested oasis completes the job and memories of the urban sprawl below are swept away.
As you step over the threshold, the effort of the climb (assisted by an inclinator lift if needed) is wholly rewarded. Like Calabash, Crane Lodge was created in collaboration with a team of Sydney's best architects, and interior and landscape designers, who all worked to achieve the Ellises' clear vision. Five luxurious bedrooms including a separate studio, with space for up to 17 guests (15 plus two infants) are housed inside this extensively renovated structure. Open, expansive spaces filled with light and art by local and Indigenous artists sit amongst the pared-back but luxe interiors working in harmony with nature.
Subtlety reigns but a keen eye may pick up the symbolism in design choices: "We've used a lot of curves so there's that metaphor of literally taking the edge off life and just slowing down a bit," Kim explains. This same ethos flows out to the alfresco areas, where a round magnesium pool, and circular cedar hot tub sit adjacent to the yoga deck and pool-side barbecue. Up a set of rough-hewn steps, there's a fire-pit zone encircled by weathered sandstone for evenings under the stars.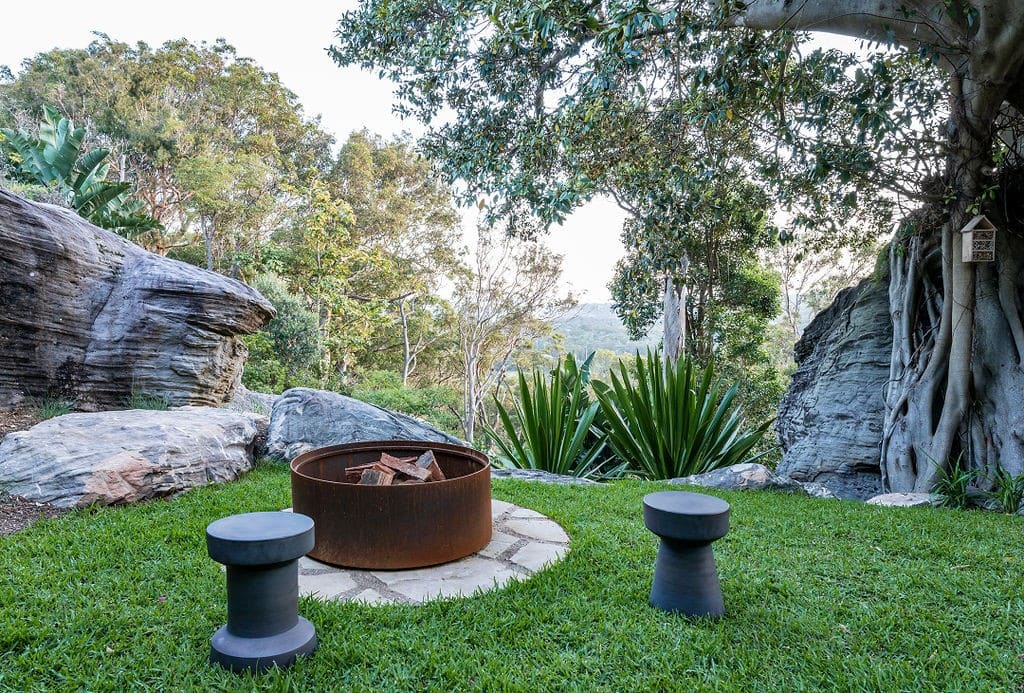 To complement these beautiful spaces, Wild Luxury's signature concierge services like private yoga classes, massages (beneath the sprawling fig tree) and private chef catering are available here too. As a Crane Lodge bonus, bush tucker tours with onsite Indigenous cooking class and rental of a seven-metre Scandinavian power boat are optional add ons.
As with Calabash Bay, Kim adds, the heart and foundation of what they do is to allow guests to "consistently have direct experiences with nature" from anywhere on the property which could simply mean views through the thick trees to Pittwater and Avalon or a reading a book in the hammock slung between two palms in the top garden.
But for true communion with nature, guests can book in for a guided forest-bathing session run by Sydney-based certified forest therapy guide Mayumi Kataoka in the front garden. Known as shinrin-yoku or forest bathing, the Japanese practice is said to lower cortisol and stress, helping improve mental and physical wellbeing.
Encouraging a reverence for nature is more than therapeutic for Wild Luxury. Kim believes their role as custodians of the land comes with responsibility too. Along with solar panels, rainwater and biofuel fireplaces, the gardens have been a labour of love that exemplify Kim and Derek's sustainability approach. After purchasing the 2000 square metres of neglected land in 2019, the couple painstakingly weeded over 1.5 years (with landscape designers Secret Garden). Thanks to the conservation order in place, replanting was anything but simple as they were restricted to using just 45 native species endemic to the original grove of spotted gums.
"The challenges of actually having to source and find all these things across native nurseries across Sydney were quite incredible," Kim remembers, laughing. "We had to find trees that literally only grow in that area and are often not really commercially available,"
Despite the trials Kim says "the really ancient energy in both of those locations" is what speaks to her and Derek. It's what she hopes, through their efforts to celebrate these special places, will abide for guests long after they've checked out.
"What's been really amazing for me is to find, in both the Hawkesbury River area and now where Crane Lodge is situated, these incredible places that have a very deep sense of anchoring to something," she says.